Autumn is already here. We started noticing autumn colors less than a week ago but it's already all over the place in Trondheim. We originally planned to only stay there two nights, but our hosts kindly proposed us to stay for another two nights at no extra charge so we can watch the house while they are away, which we really appreciate and should give us plenty of time to both rest and look around the city.
After a good night sleep, we head to the mountain store to get our tent pole replacement part. They help us put it back together in a matter of minutes. We're super happy the problem is already solved at no extra cost thanks to reactivity of Skandinavisk Høyfjellsutstyr store and the great after sales service of MSR. We spend the rest of the day and most of the next one inside due to poor weather. Anam decided to end his trip here, so we help him carry his bike and box to the central station. On Monday, we finally get to see a bit of what is the third biggest city in Norway thanks to the slightly drier weather. We first have a look at the cathedral, then at Old Town Bridge on the Nidelva river and the wharves of Bryggerekka. We finally talk a walk around the Bakklandet neighborhood before heading back to the apartment.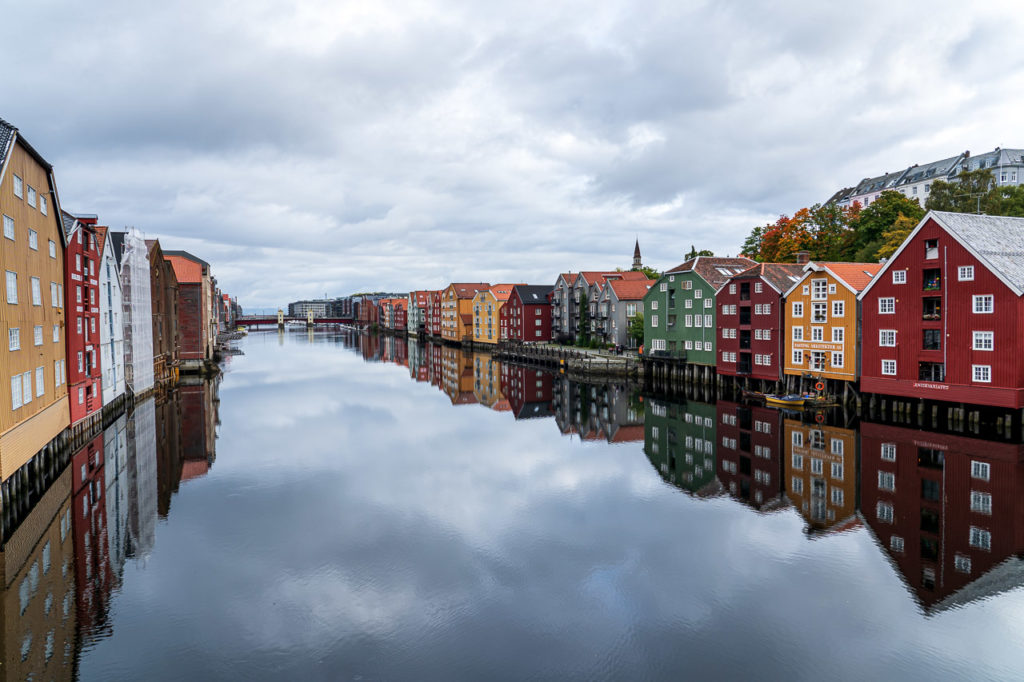 On Tuesday the 14th of September, we get back on our bikes to head north along the coastal road Kystriksveien (or Fv17). Our next major target is the Lofoten islands that we plan to reach in two weeks. We first take a passenger boat across the Trondheim Fjord so that we can enjoy quieter roads as opposed to the heavy traffic of the E6. On the road Fv720, we pass through farmland then along some fjords. The landscape is slightly less dramatic and impressive as what we were used to in the Western Fjords but we know it's gradually going to improve again in the next few hundred kilometres. It's very clouded but at least it's not raining until we pitch the tent in a wood nearby Follafoss.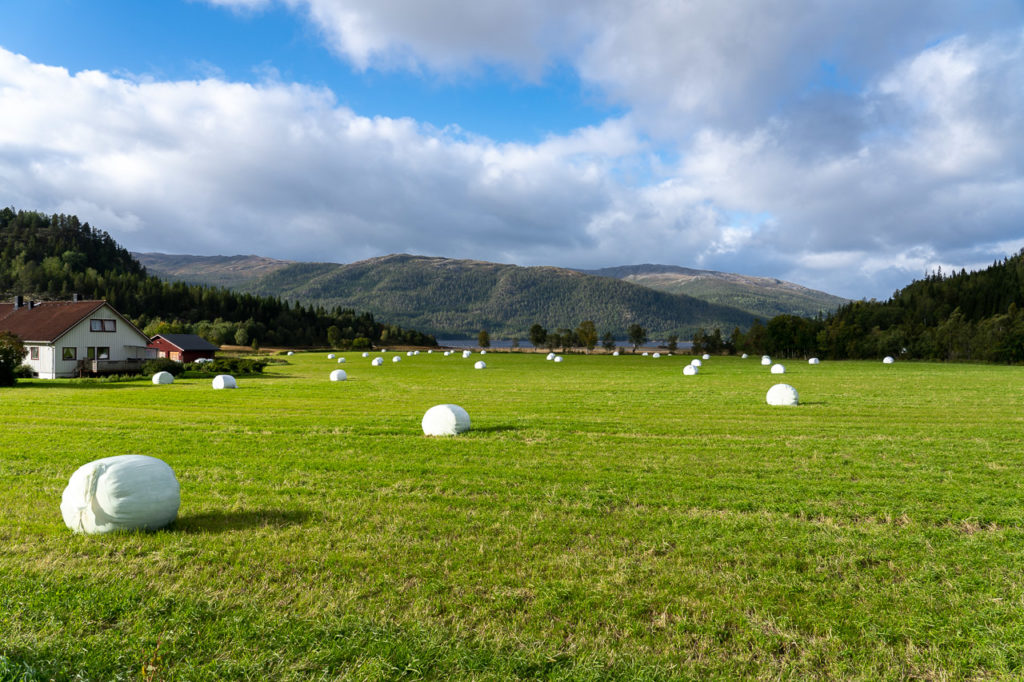 After a very rainy night comfortably spent in the tent, it stops raining for breakfast. Along the Beitstadfjorden, we pass by Follafoss and Malm then reach the Fv17. Today, for the first time, we have constant strong head wind that makes our progression in the monotonous farmland landscape of Namdalseid with heavy traffic quite painful, with average speed lower than 10 km/h. At least it's not raining for now. We still ride 89km to Namsos because we have to be in Rørvik tomorrow night. In Namsos, we buy new shoes because we started to realize the lightweight non-waterproof shoes that were perfect for the warmth of Southeast Asia might not be appropriate for cold and rainy weather. We hope to not have our feet wet anymore. We leave the Fv17 and pitch the tent in a wood a bit further away than Namsos, just a few minutes before it starts raining again.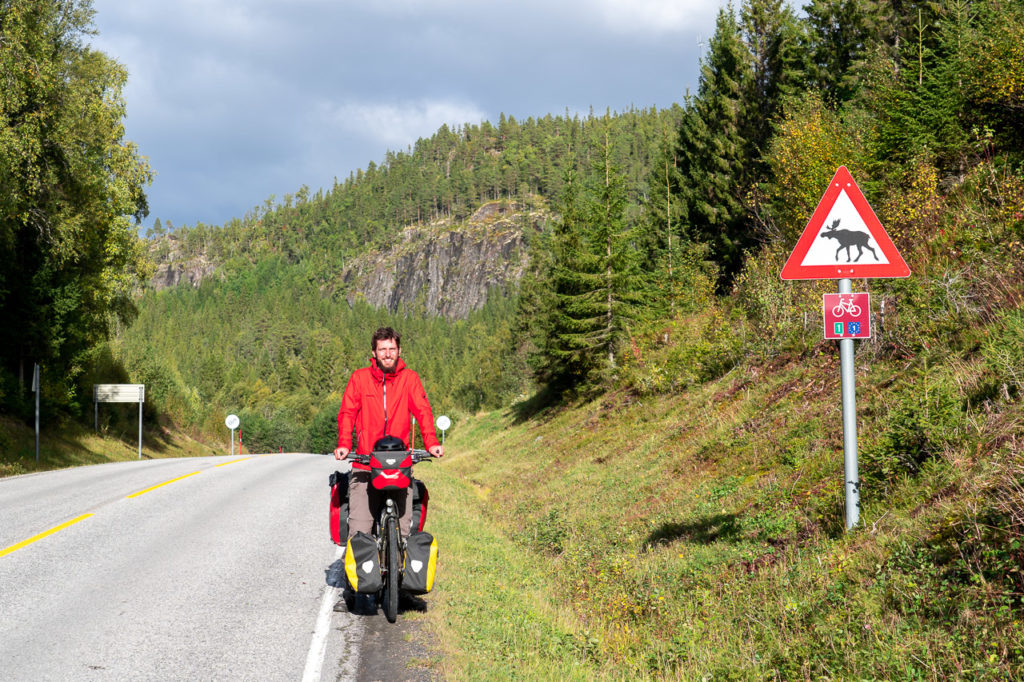 Luckily for us, it stops raining in the early morning. The road Fv769 goes through wild mountainous places with very little traffic. That in addition to the fact that there is no more wind today makes our ride much more pleasant. We also know that we have plenty of time to reach the ferry Lund-Hofles so we take more breaks. From the ferry, we spot what we think is a dolphin but actually was more likely to be a minke whale. We ride another 30km to the port village of Rørvik where we meet Åsne, a friend of Armand from his student exchange. Together, we go eat some fish in a local restaurant and spend the rest of the evening talking and watching travel videos at her place. We spend the night there, sheltered from the strong wind and rain that started in the evening.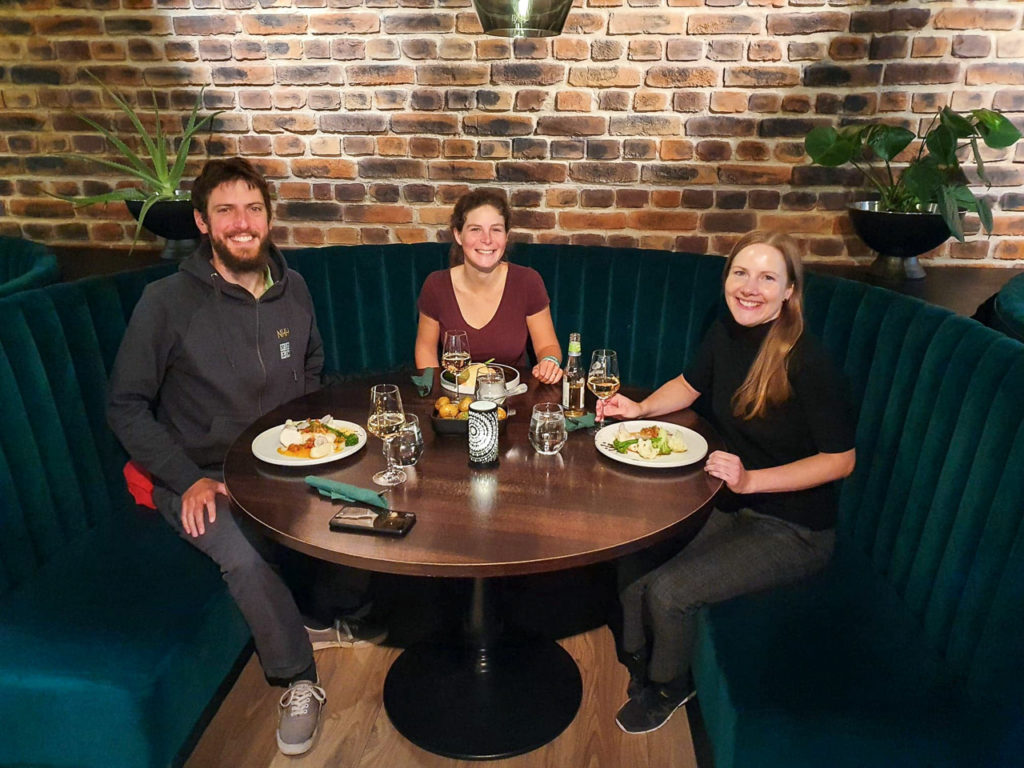 Similarly to the previous days, the rain stops in the morning which is awesome. We still spend most of the morning inside to plan our itinerary and take some coffee at the Circle K. Going to Rørvik was a worthy detour that only added about 30km to our journey, and now we basically have to go back to Kolvereid. Right before entering Kolvereid, we meet Mélanie and Jonathan again on the road by pure coincidence. We have lunch together and keep cycling with them. We spot a reindeer crossing the road for the first time. The landscape is quite wild and nice, and we even enjoy some sunshine for the last few hours of the day. We pitch the tent along the Årsetfjorden nearby Gravvik, where Mélanie and Jonathan demonstrate their fishing skills. Great dinner tonight. We only cycled 56km today, but it's comforting to release a bit of pressure after three intense days to reach Rørvik on time.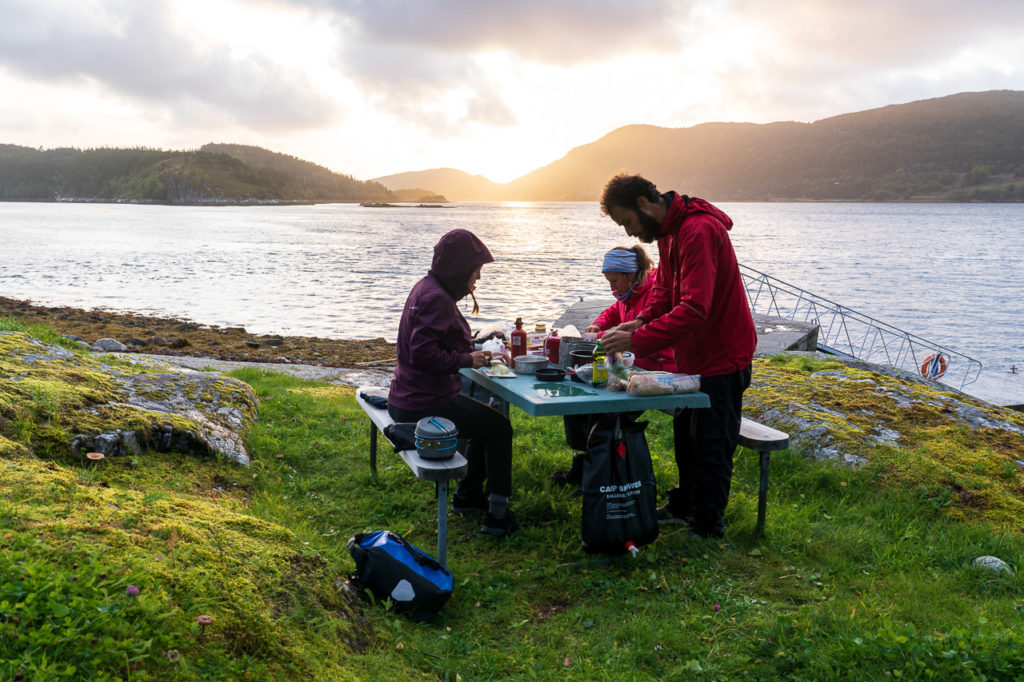 On Saturday, we cycle together for a few more hours to Holm, where we take the ferry to Vennesund. We're now back on the Fv17. We split after the ferry and keep going at our own rhythm. We do some heavy grocery shopping in Vik, as the shops are closed on Sunday and Monday is our day off quite far from any supermarket. We cycle along the Lyngværfjorden, take a coffee at the Circle K of Berg to shelter from a heavy shower, then continue and pass by the famous Torghatten mountain that is supposed to have a hole in it which cannot be seen from the main road (sadly). We pitch the tent in a birch wood a few kilometres before the town of Brønnøysund.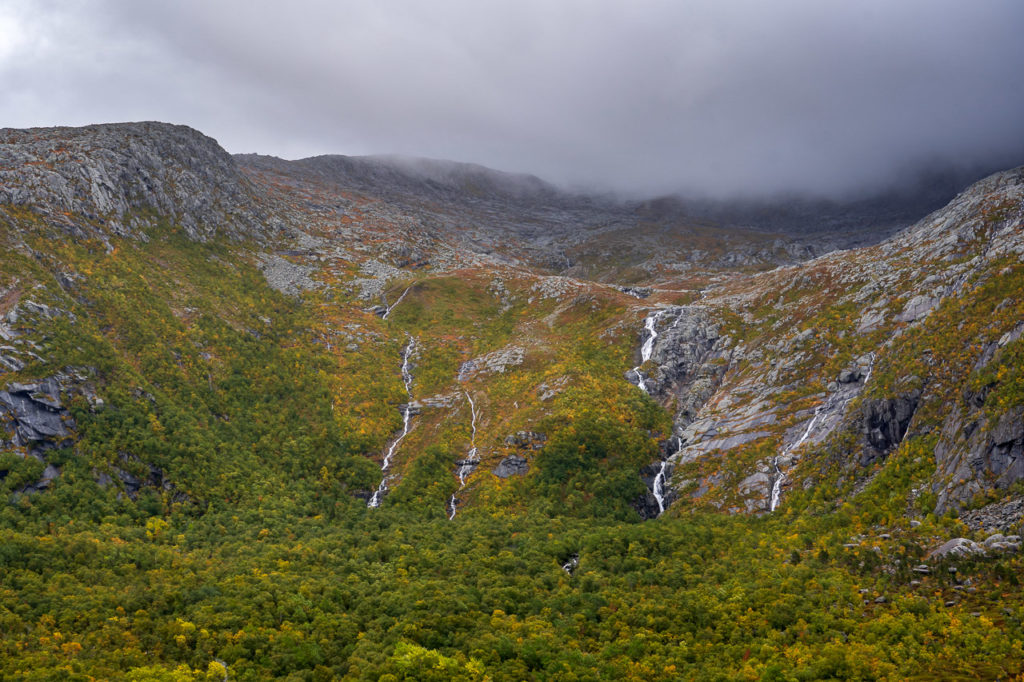 On Sunday the 20th of September, we have two ferries to take with only 18km in between. However, the second one is not frequent and if we don't want to wait for hours, we have to rush to get the first one Horn-Andalsvåg at 9:40am that is still 25km away. We make it one time thanks to great tailwind. The 18km fjord-side section between Andalsvåg and Forvik is really pleasant with many waterfalls, beautiful autumn colors, tailwind and virtually no traffic. In Forvik, we're super happy that there's a waiting room at the ferry quay because heavy rain starts a few minutes after we get there. We take our lunch inside and then board the 12:30pm ferry to Tjøtta. From Tjøtta, we only have 8km to cycle to the cozy waterfront hut we booked in a camping on the wild Offersøy island for our next break. However, the wind and rain are so strong that we are soaked in a matter of seconds. We're super happy to reach this hut where we're going to spend two nights at the September equinox, as the storm is expected to worsen during the night and on Monday, with forecast wind of 17m/s and occasional wind gust of up to 30m/s. The coziness of this place along with wood fire and spaghetti bolognese really makes it up for the terrible weather.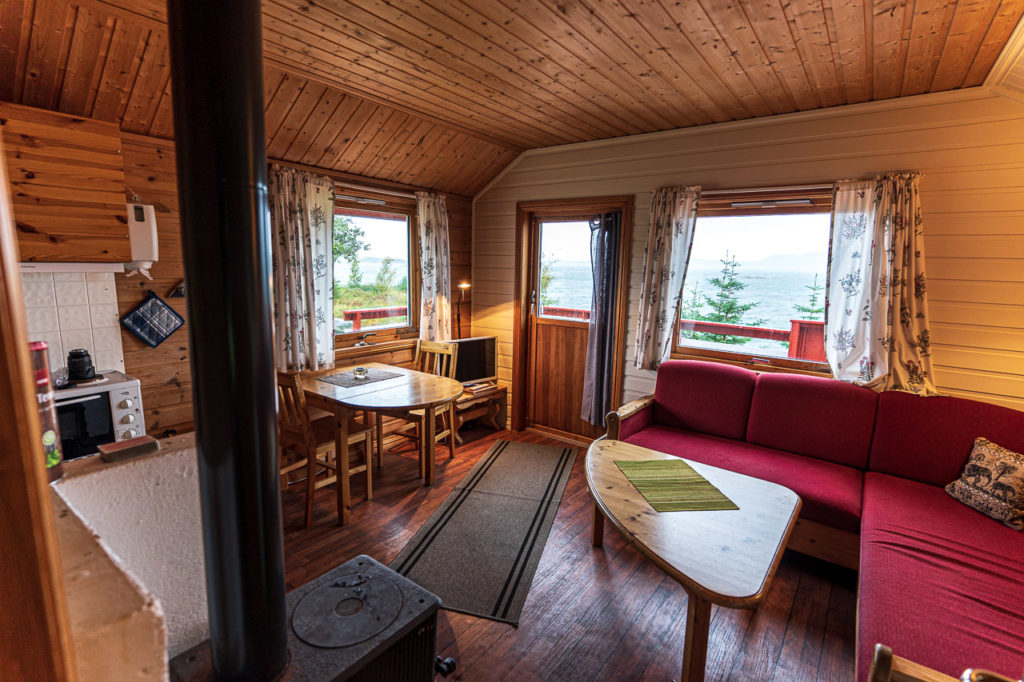 From Trondheim to Offersøy, we covered 468km in 6 days, including 54km of ferries.
See more photos in the gallery.