Ålesund is just waking up when we start our day with a short hike to Fjellstua on Aksla mountain, to get a point of view on the city center. We are lucky enough to get a bit of sunshine at the top to enjoy the magnificent view of Ålesund surrounded by water on both sides.
Back at the Airbnb, we have a long "to-do list" to fulfil: sorting the pictures, writing the article, checking on the bikes, charging all our devices, etc. We receive news from Anam who is looking for a place to stay in the city and he reaches our doorstep just a few hours later. We spend a great evening talking with him. On the next day, we visit the city center together and walk along the quays.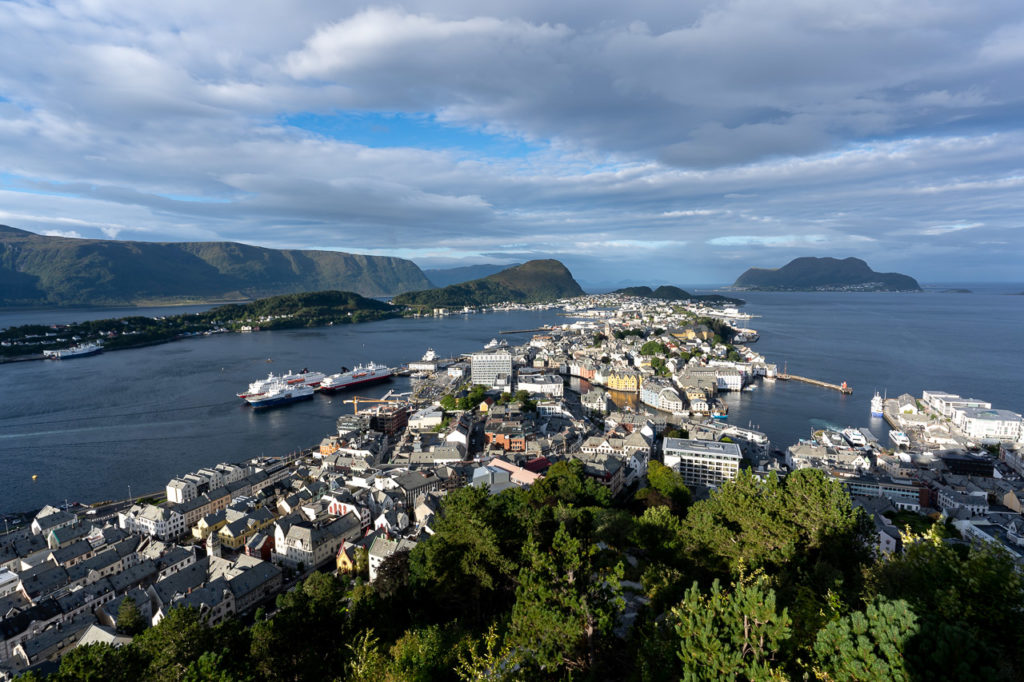 On the 6th of September, after two days of well-deserved rest, it is time to get back on the bikes. After a few kilometres, Armand notices his dynamo's battery for the phone isn't working anymore. We stop for a quick wire check, but can't find what's wrong. Later, on the road, we meet a Dutch guy that has been living in Norway with his family for 20 years. He has a shelter in his garden built for cyclists to camp. Unfortunately for us, it is at only a few kilometres from Ålesund so we prefer to keep cycling. He and his daughter also show us a few types of berries and mushrooms that we could pick in the woods. Quite a nice encounter! We follow his advice to pass by the quite wild islands of Dryna and Otrøya close to Midsund, where we could easily camp. As expected, we later found a great camping spot along the fjord on Dryna island, hidden from the road and with a table.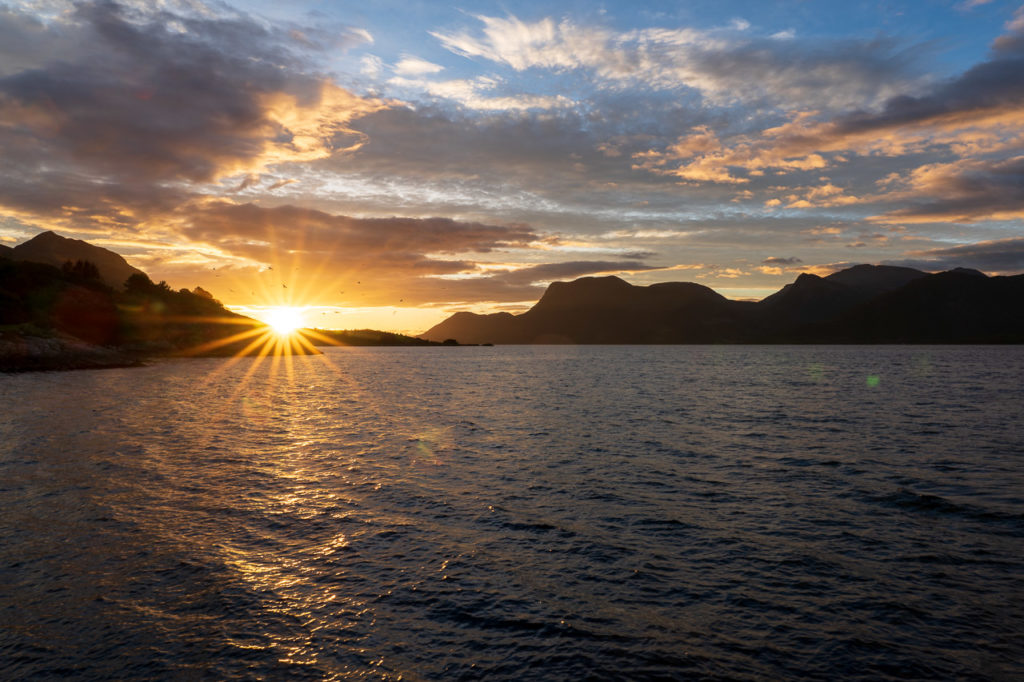 The next day, we wake up with a great sunrise. We take the ferry to leave Otrøya island and arrive close to the town of Molde, but we skip it and directly head towards the Atlantic Road instead. In the afternoon, it starts raining and we get soaked. We still keep cycling as we don't want to set camp under the rain, and stop a bit before the famous bridges of the Atlantic Road. We quickly put on warm clothes and enjoy the cosiness of our tent. Strong wind gusts start to shake the tent, which is completely exposed as it is facing the ocean. We are getting ready to cook, when suddenly, the bikes fall on the tent! Fortunately, we were not lying and we didn't get hit. We quickly go out of the tent and move the bikes further. We discover that one of the tent's pole is broken in two… What a nightmare! We manage to do a quick fix with some rope and a bit of tape and pray that it will hold for the night. The wind shakes the tent all night and we barely sleep. Every time, we worry the reparation won't hold or the tent will rip apart. Fortunately, we wake up warm and dry. The rain stops for a bit and we quickly fold the tent. As soon as it is done, heavy rain starts pouring and we get soaked in two minutes… Not the best start for the day, but we are still excited to cycle on the Atlantic road.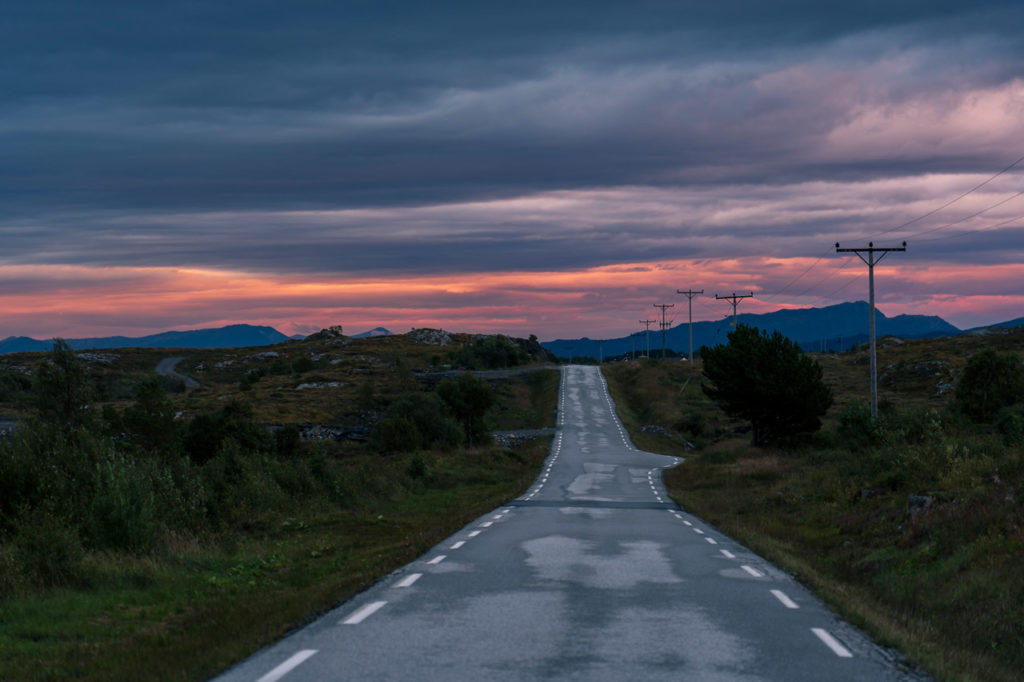 The famous bridges of the scenic Atlantic Road are still very impressive, but the weather is awful and it is hard to enjoy the moment or take pictures. The Atlantic Road is composed of a few small islands all connected with nice bridges. The wind is so strong that we need to keep a very good balance not to fall off the bridges. We are worried to get cold as the wind is freezing and the rain whips our backs. We hurry to go through and skip the nice hikes around the small islands.
We are still at 26km away from Kristiansund and decide to keep going in the rain, and thankfully the wind is a bit weaker. To enter the city, there is a big tunnel passing under a fjord for which we have to take a bus. On the other side, we stop at the "Circke K" to dry, eat and decide on our next move. The weather forecast is really bad for the afternoon and the next day for both wind and rain, and we don't have a reliable tent anymore. We decide to spend the night in Kristiandund. At a motel, we receive a nice welcome and a good cup of coffee from a French woman.
We take the opportunity of this unplanned rest afternoon to call a few shops in Trondheim to look for a solution for the broken pole. The next day, we decide to spend another night at the motel due to terrible weather but still manage to visit Kristiansund's center and get a nice view on its cross-shaped harbour.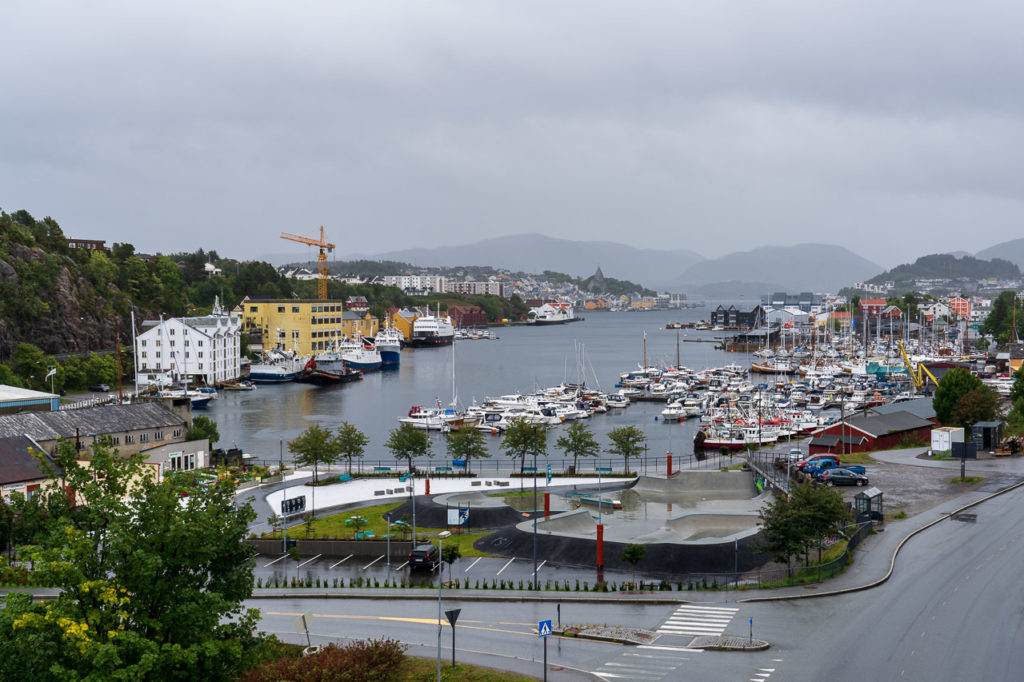 Between Kristiansund and Trondheim, there aren't many options to sleep without our tent if we stay on smaller roads than the main E39, so we decide to do it in two days (1st day 96km + ferry and 2nd day 103km). We find a warmshower willing to host us halfway, in Kyrksæterøra, and plan to meet Anam again in Trondheim on the 11th of September.
We manage to keep a good speed and are only at 25km away from the warmshower when we meet Mélanie and Jonathan on the road, two French cyclists that are also heading north. We cycle together for the rest of the day. We arrive quite wet at Kyrksæterøra and get a warm welcome from our hosts Radu and Lucie. He is from Romania and she is from Czech Republic, and they have been living there for 3 years with their son and very friendly dog. We spend a great evening with them, sharing travel's stories and feeling among friends. They cook dinner for us and we taste Czech mead and Romanian cognac with their Norwegian neighbour.
We still have some steep hills to climb before reaching Trondheim in addition to the 103km distance. We pass by Orkvanger where we stop for lunch, and we arrive at our Airbnb in Trondheim around 5pm. Anam is already there, ready to welcome us with coffee. While we unpack and shower, he cooks a delicious dinner for us. It is so nice to see him again and to spend a few rest days in his company. We also received good news in the afternoon: MSR Norway has already shipped a new pole to a shop in Trondheim for us!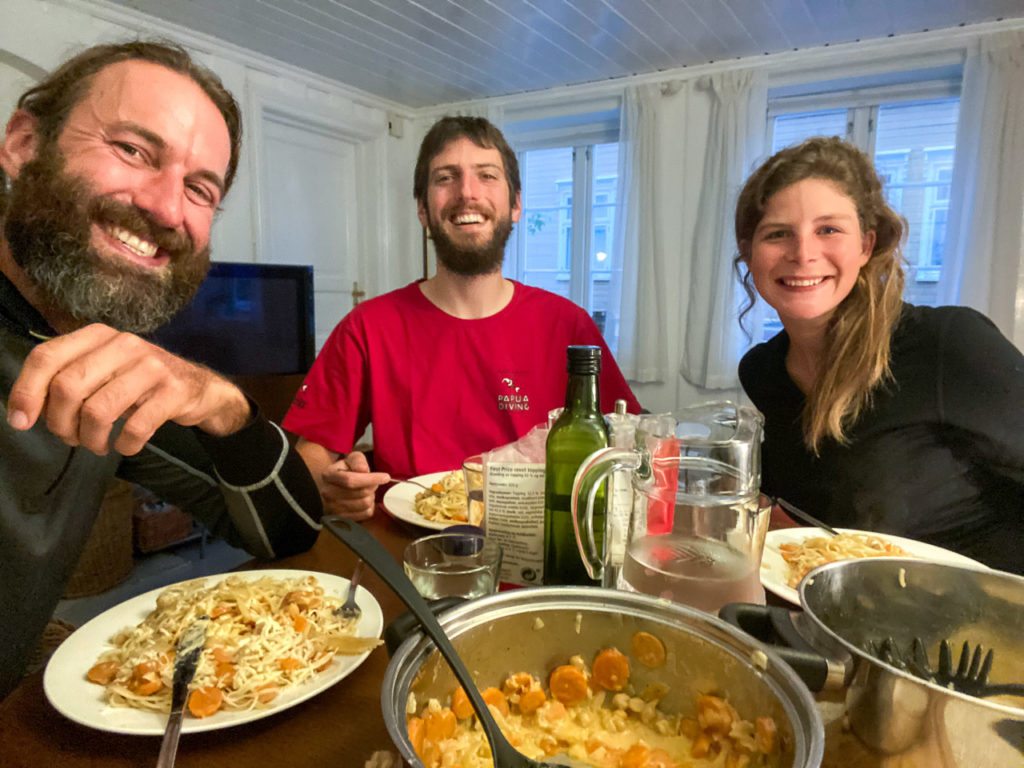 See more photos in the gallery.