Our journey in Norway starts with a city trip in Oslo. We arrive with the ferry at 10am in the city center and pass quickly by the hotel to drop the bags. We first cycle to Vigeland Park, a big park filled with statues of people of all ages from babies with their mother to an old couple. We cycle then back to Aker Brygge and the Akerhus Festing (fortress). The city centre is full of interesting modern buildings, including the Astrup Fearnley museum of modern art (designed by Renzo Piano) but it starts to rain heavily and we start to hurry. We still go up the famous Opera of Oslo on the slope roof (but only saw later that it was forbidden to cycle there…) and have a nice view on the surroundings with the new library and the Barcode Projects.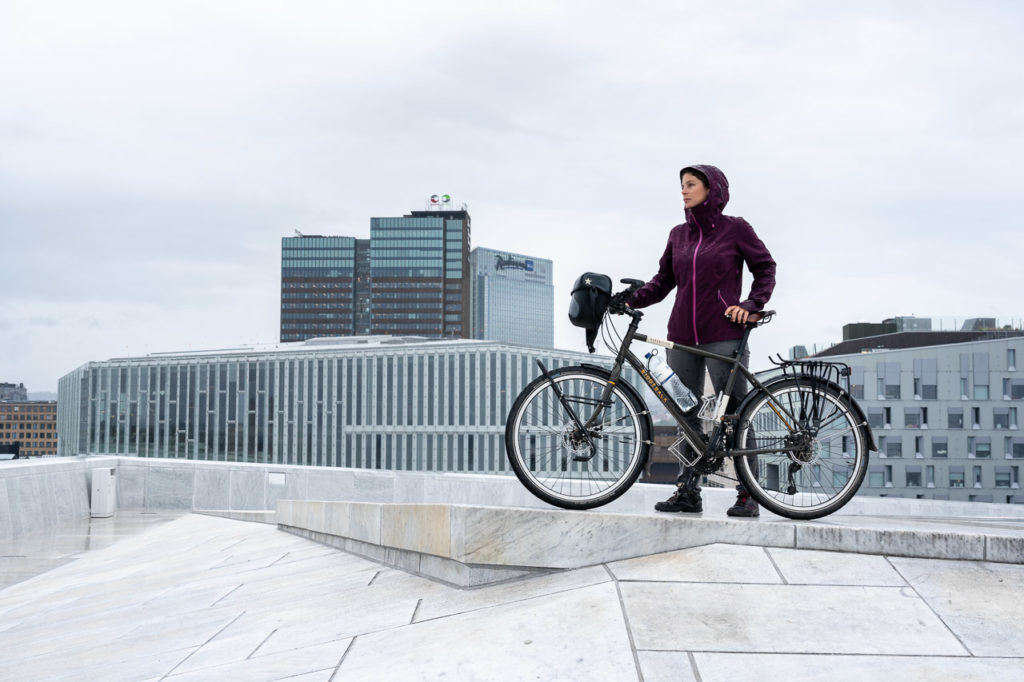 The next day is our first day of cycling in Norway and we can already feel the difference in our legs!
We start by stopping at a supermarket to stock food and that's when we realize a part of Armand's tube is sticking out of the tyre (yes, again his rear wheel if you have been following our journey in Asia). Fortunately, there is a sport's shop nearby and we manage to quickly fix it, but he has now a mountain bike tyre. We are lucky to have spotted this torn up tyre before we leave the city.
We end up on a super hilly gravel road where we need often to stop to catch our breath and sometimes to push the bikes as the road is so steep. The weather is better than yesterday with intermittent sun and showers. The landscape is still really nice, we are surrounded by fir trees and we meet a really nice Norwegian couple doing a pilgrimage with their mother. She is so surprised to see us arrive with heavy bikes that she welcomes us with cereals bars to give us energy. Eventually, at the top, we enjoy a great view on the lake below and we cycle down the slope as fast as we can. We push a bit further than Hønefoss where we find a forest along a river to wild camp.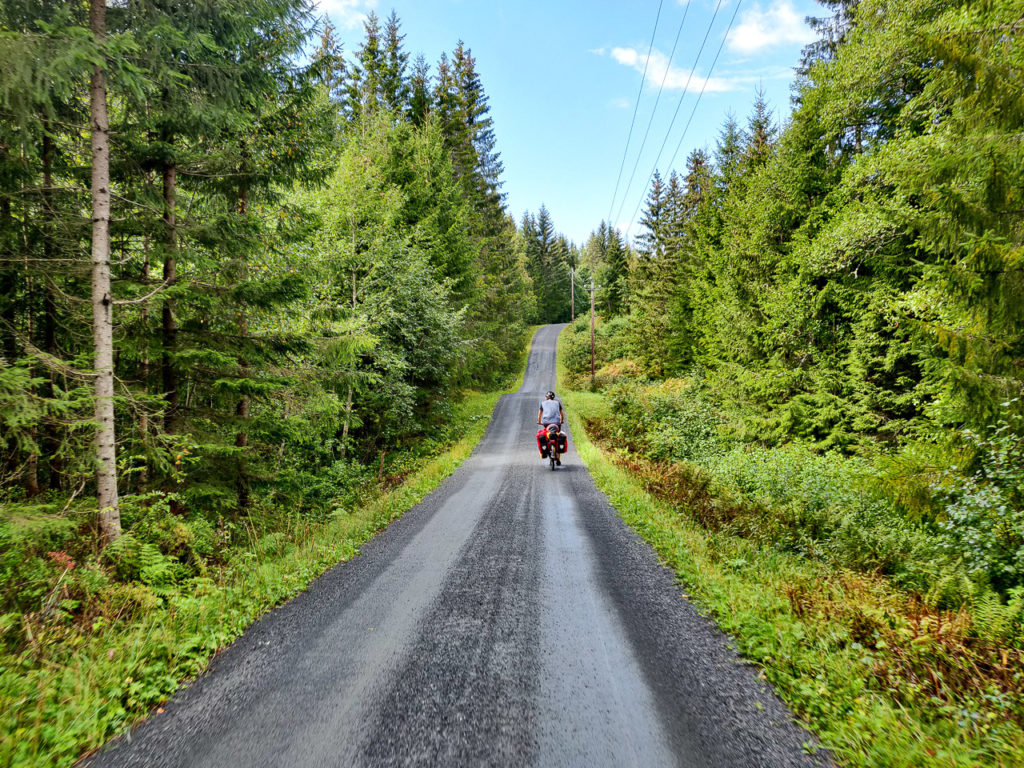 The next days start to be colder but with more sunshine and we end up often on big roads but the traffic is not so bad and the views are amazing.
In Norway there is a rule for wild camping called "Allemannsretten", a law that allows everyone to roam free on uncultivated land in Norway if you are at least at 150m from habitations. We enjoy it a lot and find often nice hidden camping spots next to rivers, lakes or fjords. The difficulty is to find a flat spot but we have been lucky so far. We also see a lot of berries in the woods but we've only eaten raspberries so far due to our limited knowledge.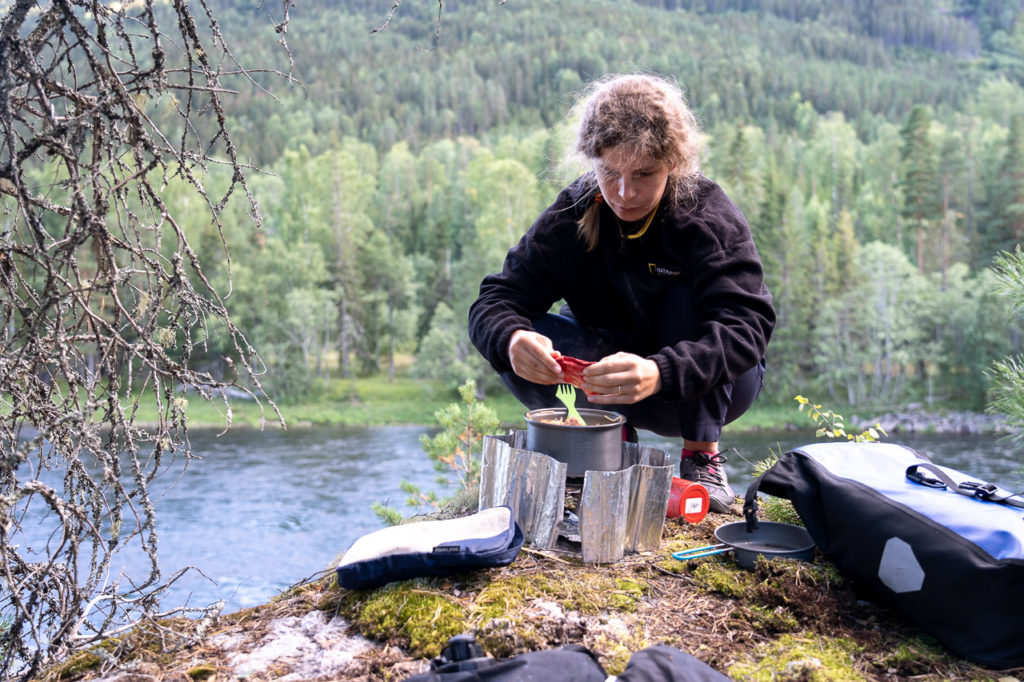 Our tights are getting stronger every day as there are many steep slopes. The cycling is clearly not always easy but also so worth it. We have been amazed by the wonderful Norwegian nature.
On our 18th day (25/08), we reach the Rallarvegen in Haugastøl: a cycle path going through the Hardangervidda mountain plateau. From the beginning, we are amazed by the stunning landscape and it never seems to stop. We stay on this road for 1,5 day. We take our time to enjoy it, stopping often to enjoy the view, taking (a lot of) pictures. We meet another fellow cyclist, Anam with whom we cycle for a bit. We find a great camping spot a few kilometres before Finse at around 1200m above sea level, and are able to enjoy it for a while as the wind eventually stops. At such altitudes, the temperature goes below 0°C at night. The next morning, after a few kilometres, we meet again Anam who invites us for coffee with a view on the Hardangerjøkulen glacier, a great start for the day. We stay for another 40 kilometres on the Rallarvegen under cold temperatures but bright sunshine, the gorgeous views never seem to stop. This has been the best cycling road we have done so far. The landscape often changes from quiet meadows with the river and a few cabins and sheeps to steeper mountains with rocks and even a glacier. We reach the highest point of that road at 1343m and have to push our bikes through the snow as there has been a lot this year, apparently.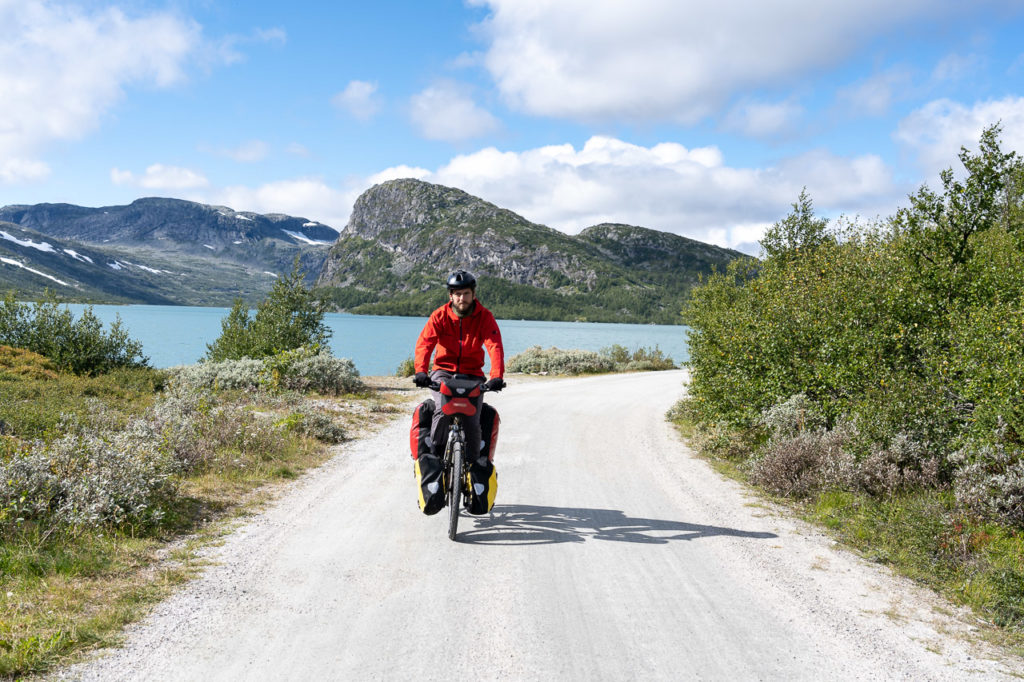 We finish the day at Myrdal train station where we booked the 8:30pm train to Bergen as we cannot cycle further due to a difficult terrain composed of fjords and tunnels. Our initial plan was to go down from Myrdal to Flåm by bicycle and take a ferry from across the Sognefjord but tourist ferries have stopped already because of the lack of tourists due to covid-19, and the roads from Flåm all pass through tunnels forbidden to bicycles. At least, it gives us the opportunity to pass by Bergen where Armand did a student exchange 7 years ago. We later learned that another option was to take a (much) cheaper local train from Myrdal to Upsete and from there keep going by bicycle downhill to Voss, but that will be for another trip.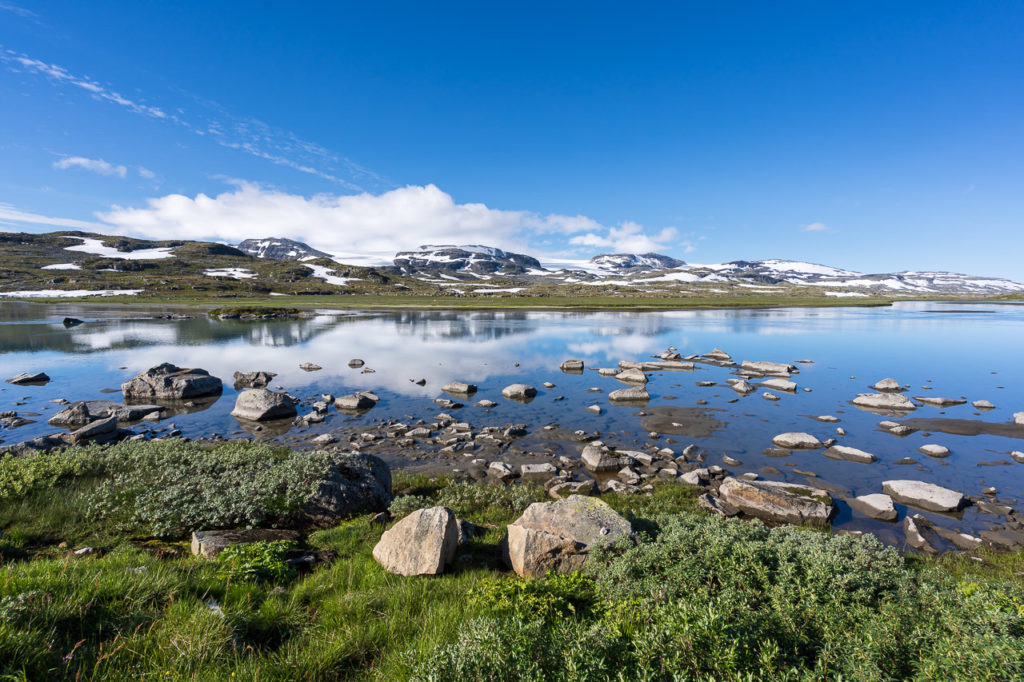 See more photos in the gallery.