At the immigration office, it takes a few hours to get the paperwork done, but at least we get to stay another month in Thailand for 1900 THB per person. We decide to stay another night in Sukhothai Thani as it's almost noon and we're a bit depressed. We learn that starting from April, there won't be flights to Europe anymore and the embassy strongly encourages us to go back as soon as possible. As it looks like the situation won't improve any time soon, we make the painful decision to suspend our trip and book a flight to Belgium at the end of the month. We still want to ride to Chiang Mai in the meantime to end on a positive note.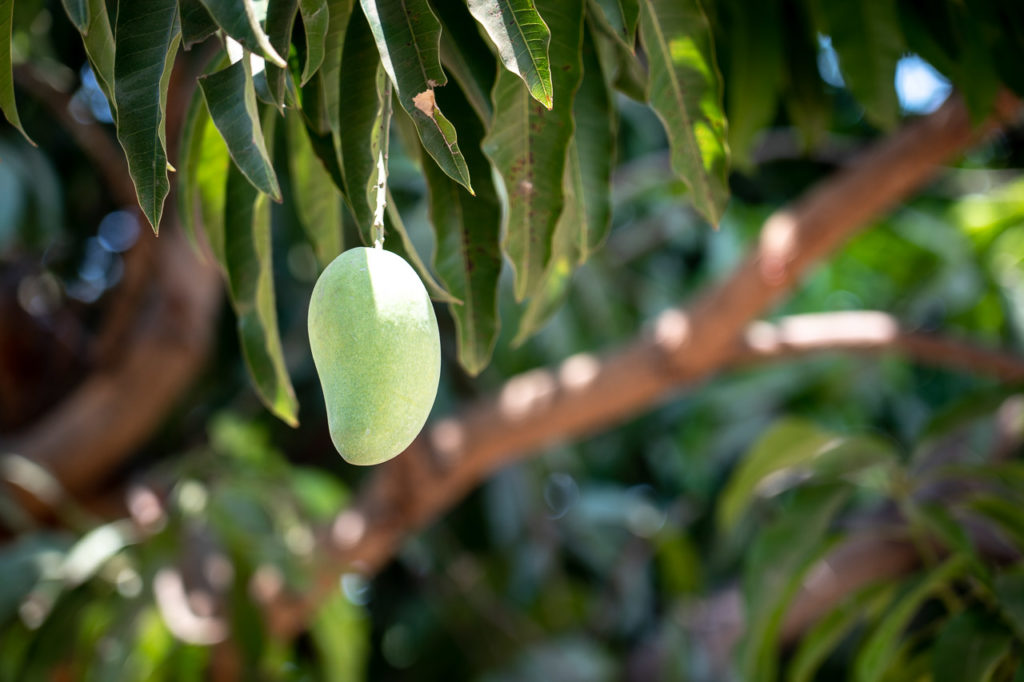 On Tuesday, we ride north and reach the 3000 km milestone. For the first time, we get pulled over by suspicious policemen. We feel the animosity towards foreigners is growing every day. We still make it to the village of Thung Saliam which lies at the bottom of the mountains of Northern Thailand. We're looking forward to this since the 3000 first kilometres were mostly flat (except for the optional detour in the Cameron Highlands). Here again, we struggle to find accommodation as most hotels are either closed or supposedly "full" when they actually look empty, but still manage to find one after a few unsuccessful attempts. When we learn about state of emergency about to be declared in Thailand, we decide to not go to Chiang Mai and instead turn back towards Phitsanulok tomorrow, and take the first train to Bangkok as we fear transportation might become difficult and we don't want to miss our flight.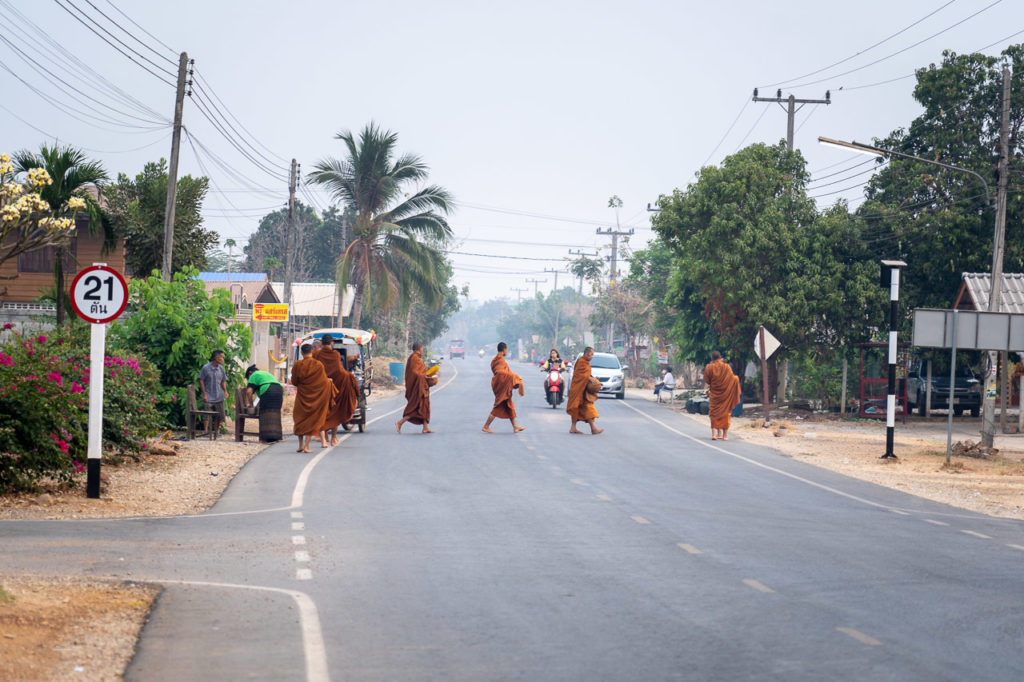 We ride 121 km to Phitsanulok, this time with a light head wind. When we get there, we book our train tickets for the night train to Bangkok. While waiting, we also learn that our flight to Brussels was cancelled. After spending hours on the phone trying to talk to the company, they are unable to find us another flight and give us no other option than a refund. Nevertheless, we still get on that train and reach Bangkok by 5am.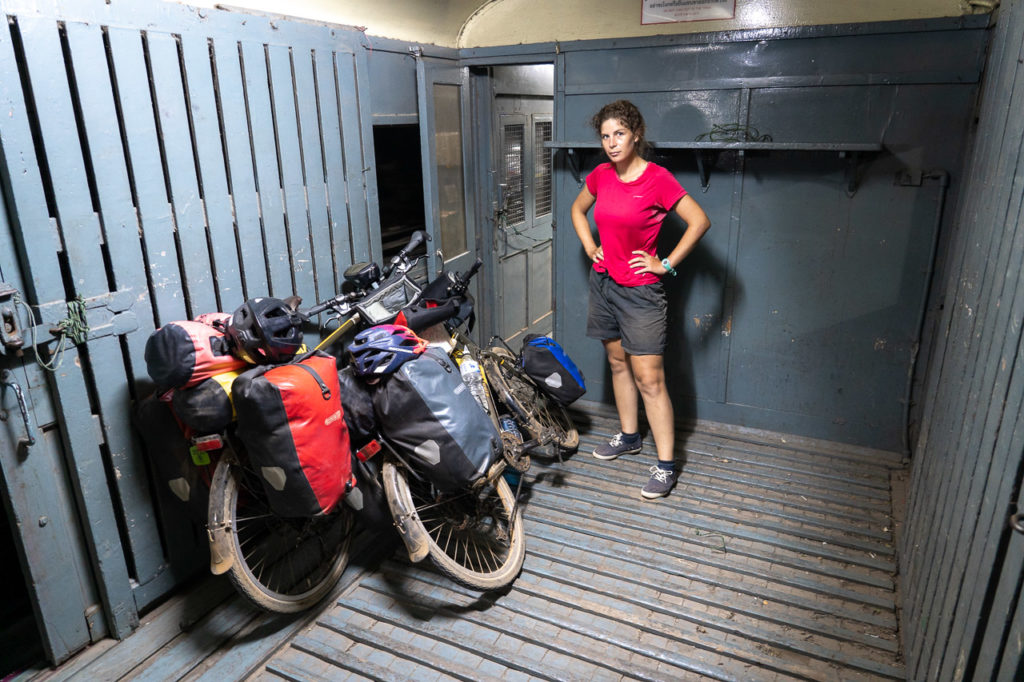 Bangkok is now in lockdown as well, meaning most stores are closed and it's only possible to buy take-away food. At the hotel, we manage to find a flight to Zurich a few days later for a comparatively reasonable budget. In the afternoon, we also manage to find some boxes for the bicycles and a big travel bag for our panniers. The same evening, we learn that our flight to Zurich was cancelled, but thankfully the company is more efficient in finding us a plan B: we're flying to Zurich tomorrow at 1pm.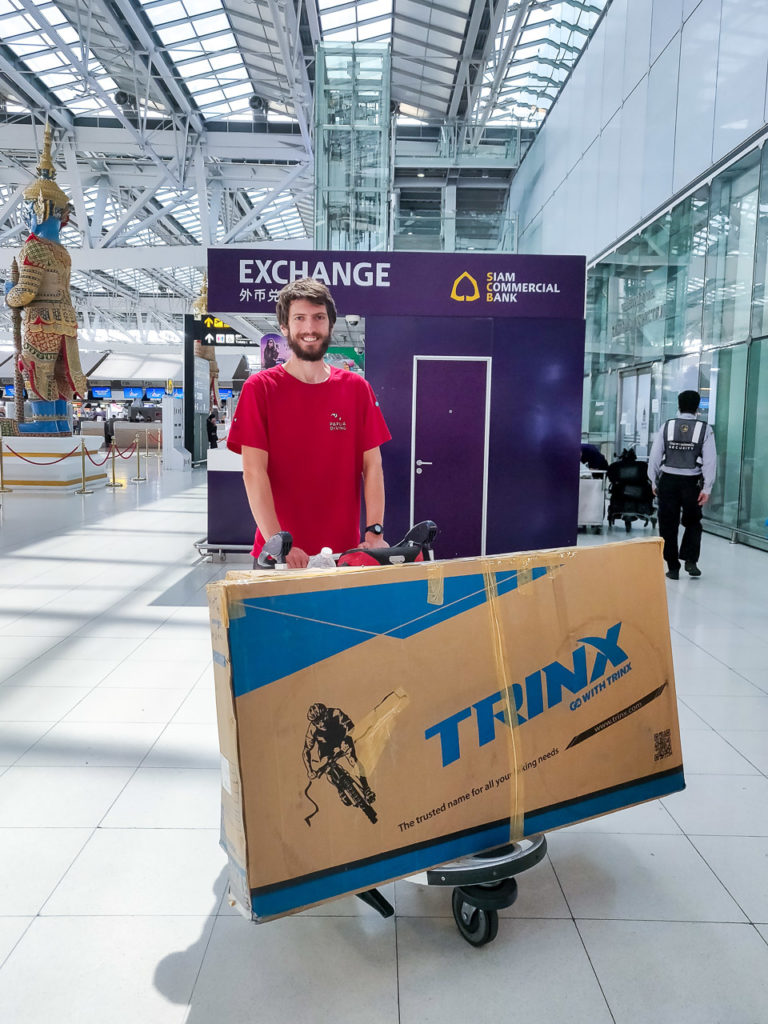 On Friday morning, we rush to pack our bicycles and our panniers and make it to the airport on time. We reach Zurich after a 12-hours flight, but we still don't know how we are going to get to Brussels and Switzerland doesn't want us to stay here due to the pandemic. Car rental companies propose crazy expensive prices and very limited supply of cars that are big enough for our bicycles. The train also seems complex with 5-6 connections in countries where we are not welcome either. We manage to find an overpriced flight to Brussels through Frankfurt the next day.
When we finally get home on Saturday, we now have to serve a strict quarantine, with no idea on when we are going to be able to continue with our trip. The pandemic clearly is at a worse stage here than in Thailand. Nevertheless, we're convinced that we made the right decision to come back as it looks like the situation is unlikely to improve in the next few months, and backup plans would have become rare with too many unknowns if we had stayed in Thailand: How long do we need to wait? Will we be able to extend our Thai visa again? Will the accommodation options become a problem? Will we be able to fly back if the situation worsens? So many questions with no answers, but we know for sure we'll be back on the road.
To conclude, here are a few statistics about Thailand:
| | Thailand only | Trip total |
| --- | --- | --- |
| Days | 33 | 56 |
| Days of cycling | 24 | 40 |
| Days of rest/visits | 9 | 16 |
| Punctures | Too many (Armand only) | Idem |
| Kilometres cycled | 1971.3 km | 3152.6 km |
| Total time on our bicycle | 107 h | 179 h |
| Longest daily distance | 121 km | 121 km |
| Daily average distance (excluding rest days) | 78.8 km | 73.3 km |
| Daily average time on our bicycle (excluding rest days) | 4h21 | 4h10 |
| Max speed | 58.1 kmh | 65.3 kmh |
| Highest altitude | 265 m | 1628 m |
| Nights in hotels | 29 | 46 |
| Night in a tent | 3 (1 campground, 1 warmshower & 1 wild camp) | 3 |
Please find our itinerary realized in Thailand below:
And here is the elevation profile of our entire trip: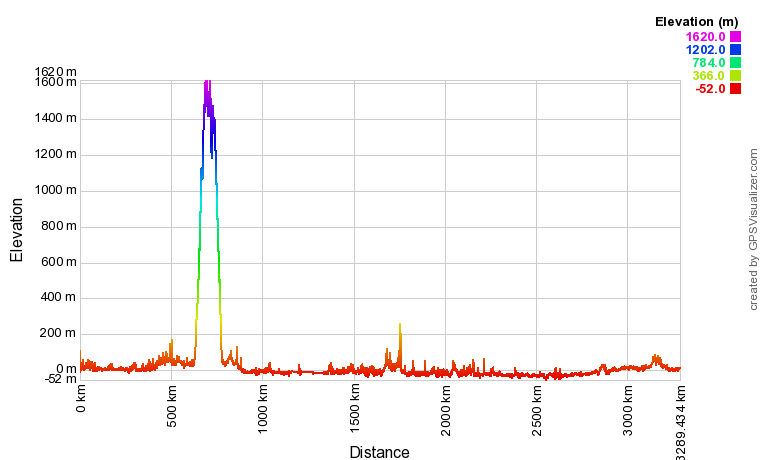 See more photos in the gallery.