After a good and early breakfast buffet at the hotel, it's time to leave Bangkok. We first ride 25 kilometres on a long and boring boulevard along the railway before we feel we're finally out of the metropolis. Today's plan is to ride 75 kilometres north of Bangkok towards the ancient city of Ayutthaya, which was the capital of Siam (Thailand) from the 14th to the 18th century. We reach it in the early afternoon, leave our bags at a hotel, then get on our bikes again to ride around the ruins of the multiple temples and palaces of the city-wide historical park. Our visit takes us first to the three chedis of Wat Phra Si Sanphet, followed by the temples of Wat Mahathat and Wat Ratchaburana. We end the day at Wat Chaiwatthanaram but we don't manage to catch a scenic sunset there as it's pretty hazy. Back at the hotel after dinner, we're exhausted of this intense day.
On Tuesday, we're still tired so we think we shouldn't push too far today. Nevertheless, we ride towards the ancient city of Lopburi, a city older than Ayutthaya and completely surrendered to the mercy of monkeys, which are fed by the locals and believed to be the descendants of the Hindu god Hanuman. Again, we reach it right after lunch and decide to keep going for another 30 kilometres towards Ban Mi, where we find a cheap place to stay and have dinner at the night market.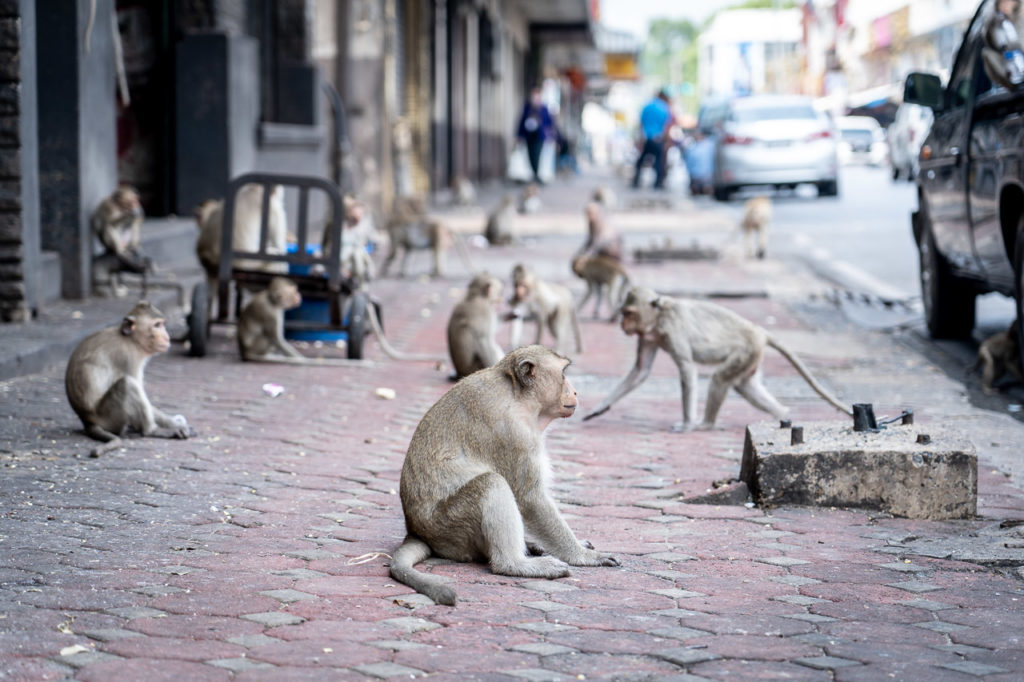 From Ban Mi to Nakhon Sawan, it's another 105 kilometres through farmland roads. Today, we completely avoid the main roads and manage to make it through the rice paddy fields on a combination of asphalt and dirt roads. The landscape is very flat and very dry. At this season, most fields turn yellow and it's common for farmers to burn them before the rainy season starts in April. It's also much warmer than on the coast, and we hit 38°C for the first time. Armand is happy that he hasn't had any puncture in three days after changing the rim tape.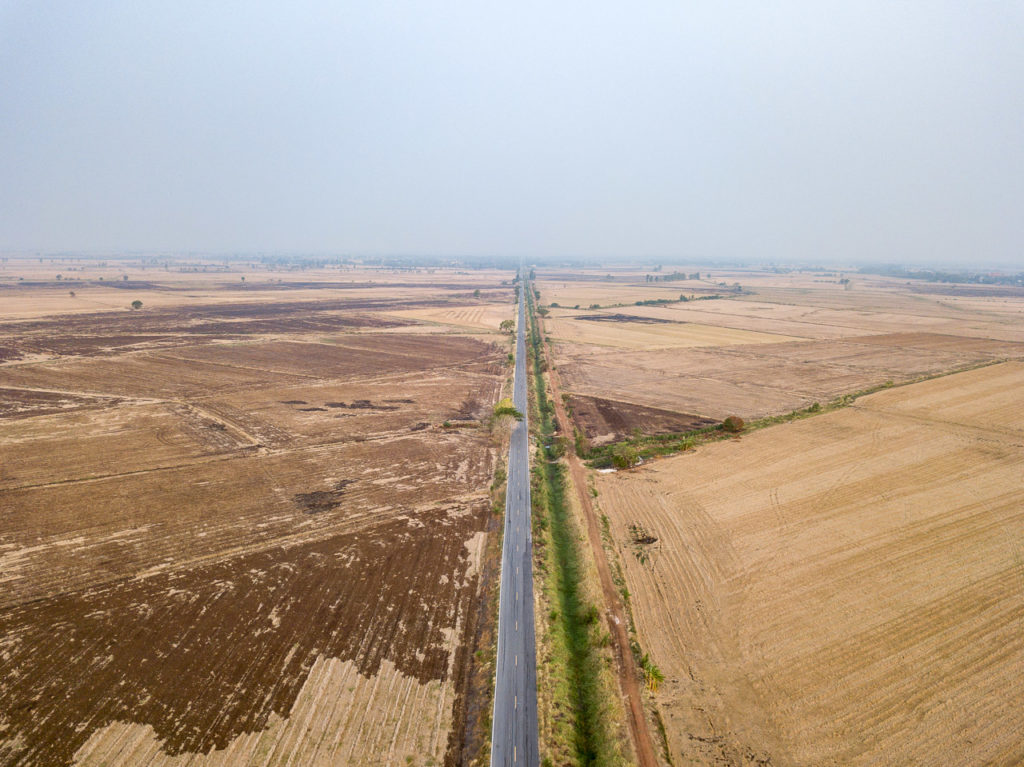 We target to ride from Nakhon Sawan to Sukhothai in two days by spending the night somewhere in between. We mainly stick to farmland and dirt roads, but exploring secondary roads also comes with downsides as we hit a dead-end in the middle of a field even though the map on our phone pretends there should be a road. We have to turn back and this adds 5 kilometres to our itinerary. It's a bit frustrating but it's part of the adventure. We make it to a village where we though there would be accommodation but there isn't, so we attempt to ask if we can pitch the tent in a temple without success. Due to the ongoing coronavirus pandemic, we hear more and more reports of travelers being denied accommodation in neighbouring countries and we fear the same is starting to happen here. Anyway, we decide to push for another 12 kilometres to Sai Ngam, a bigger village with several hotels. Here again, we're facing some difficulties as some hosts pretend their hotel is full (when it's obviously not), but we fortunately manage to find a more welcoming one next to an unexpected Western food restaurant where we eat a fish and chips. The daily step turned out to be 117 kilometres.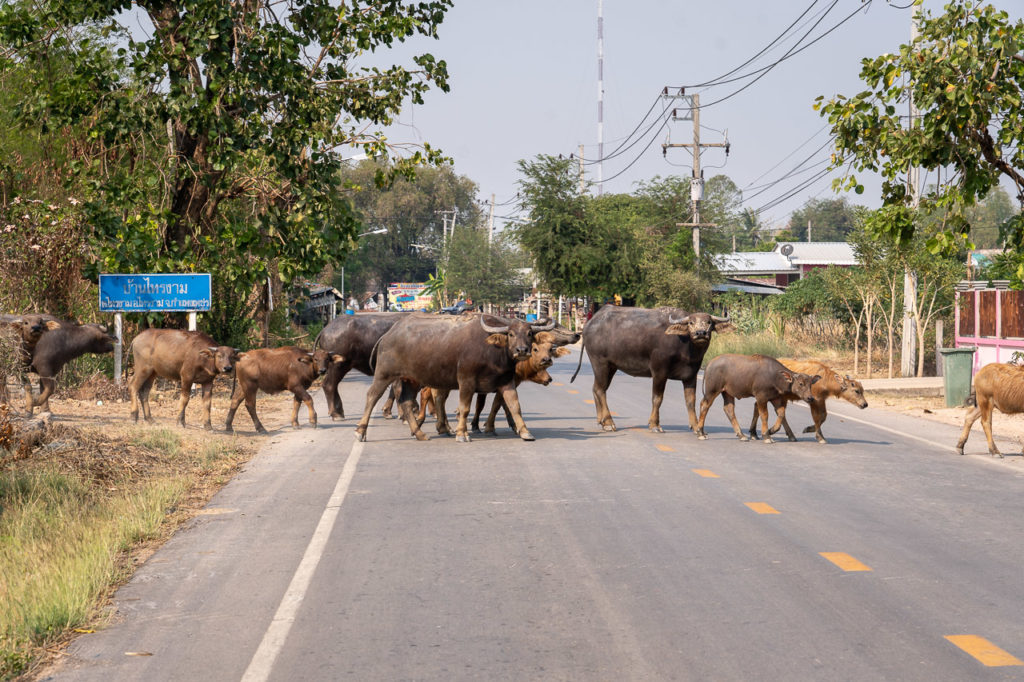 On Friday, we ride the remaining 79 kilometres towards the ancient city of Sukhothai through more and more burning or burnt fields. It's now obvious where the persistent haze comes from. Sukhothai was the capital of Siam in the 13th and 14th centuries, and ruins of palaces and temples can still be visited today. We find a cheap hostel near the historical park and we plan to spend a rest day here before heading towards Myanmar.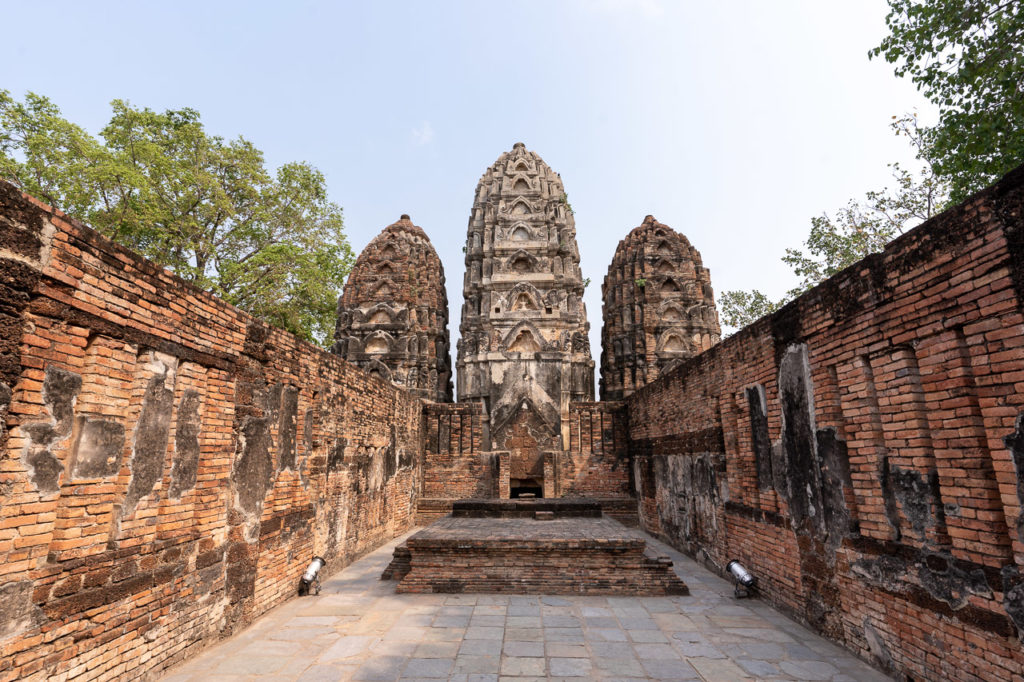 On Saturday, we spend half a day visiting the historical park, starting with the central zone which includes the famous Wat Mahathat and Khmer-style Wat Si Sawai, followed by the Wat Si Chum in the north zone. We spend the afternoon resting at the hotel. Looking at the news, we learn that Myanmar closed its land borders since yesterday due to the coronavirus outbreak. This obviously has a major impact on our trip. Since we can't go to Myanmar as planned, and it looks like we're going to be stuck in Thailand, our immediate reaction is that we should go to an immigration office to extend our Thai visa first thing on Monday morning, because we only have a couple of days left. Therefore, on Sunday, instead of going to Tak, we only ride 12 kilometres from the old city of Sukhothai to the newer Sukhothai Thani, where the closest immigration office sits. We spend the rest of the day thinking about our plan B. We think about riding north to Chiang Mai and spend a few weeks there until the situation improves and hopefully the borders re-open. Indeed, not only Myanmar is closed but all other neighbouring countries as well, and as a matter of fact, most countries on earth.
See more photos in the gallery.