Back to mainland after leaving Penang, we ride a not-so-interesting 65 kilometres (save for the 1000 kilometres milestone!) to Guar Chempedak. Thankfully, the next day brings us to smaller beautiful roads in rural Kedah state between fishermen villages with colourful boats, rice paddy fields, banana trees and coastline where people are very cheerful and welcoming. In Kuala Kedah, we are lucky to even have a lunch offered to us by the owner of the roadside restaurant we went to. After 96 kilometres, we reach the town of Kangar where we spend the night.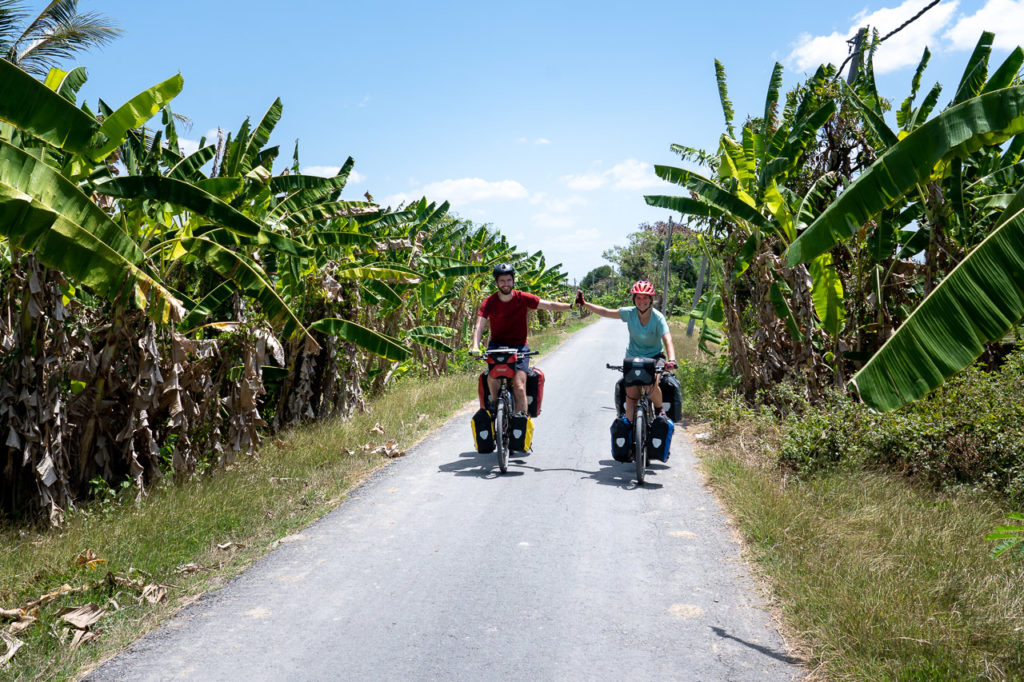 After only two days of cycling, we get our next break as we meet some friends again in Langkawi. Indeed, on Friday, we get from Kuala Perlis to the main island of Langkawi with our bicycles on a roll-on/roll-off ferry and meet them in the evening. Our first impression of Langkawi is that the neighbouring islands are pretty but the main island is overdeveloped with ugly buildings.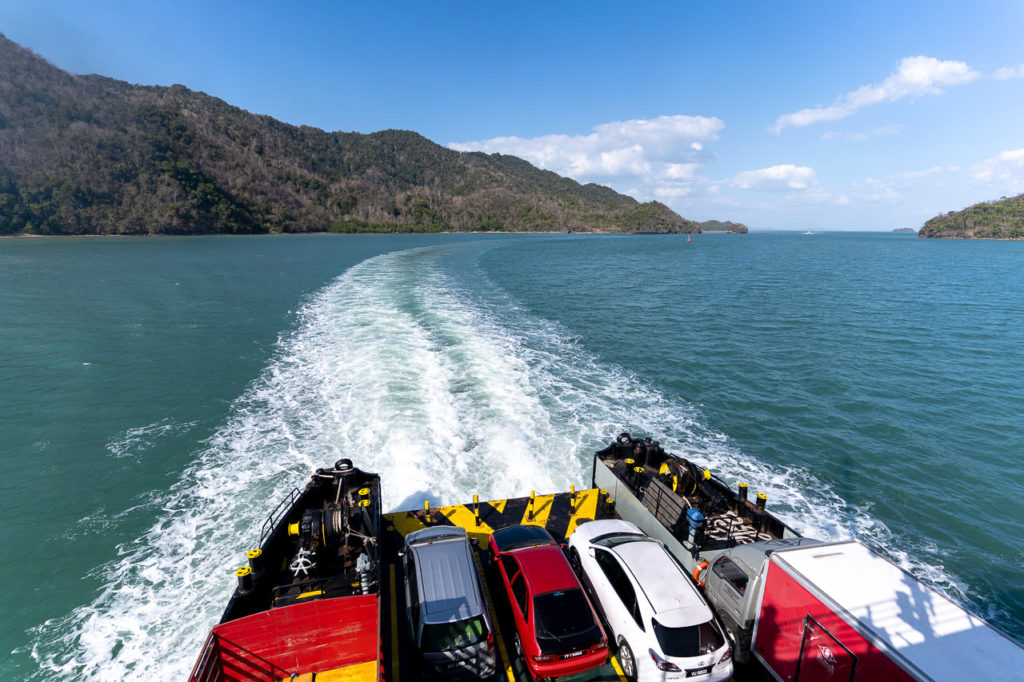 On Saturday, we start our visit of the island with the cable car ride and "sky bridge" on the peak of Gunung Mat Chinchang. Though mind-blowingly expensive, the view from there is nice and the bridge is spectacular. After lunch, we get into a sunset mangrove cruise in Kilim Geoforest Park, which actually was a pleasant experience. We were able to spot some wildlife such as white-bellied sea eagles, brahminy kites and the usual long-tailed macaques. It became even more memorable when we had to push the boat in the mangrove at low tide on the way back.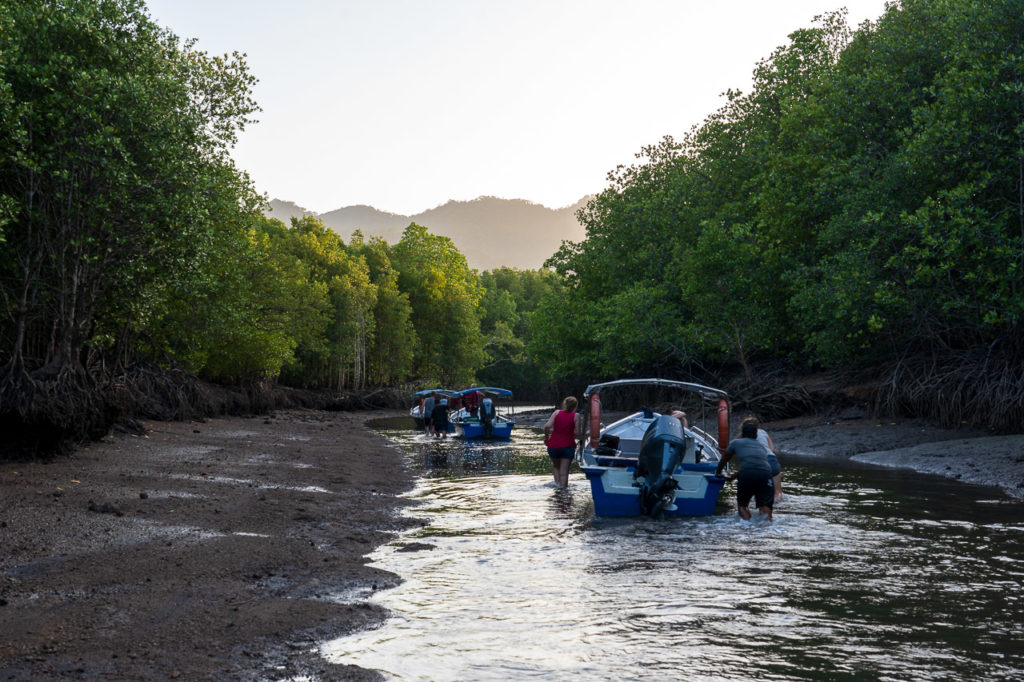 On Sunday, we booked an island-hopping tour to the southern islands of Langkawi. The first stop is at the lake of Pregnant Maiden on Pulau Dayang Bunting, which in two words concentrates everything that is wrong with Malaysian tourism: many hidden costs (entrance fee not included in tour, but tour still goes there, not allowed to swim without life jacket which are available to rent at very high price, etc.), loud music, horrible constructions and boats, and most of the trail "closed for maintenance" despite paying the full price. After this very unpleasant though eye-opening stop, we continue to Pulau Singa Besar where we get to see white-bellied sea eagles and brahminy kites again. The final stop is on the beautiful white beach of Pulau Beras Basah, where the monkeys unfortunately tend to be very aggressive after being fed by so many tourists. The afternoon is more relaxed with some lunch, some more beach time and a few beers at the hotel before our friends head back to the airport.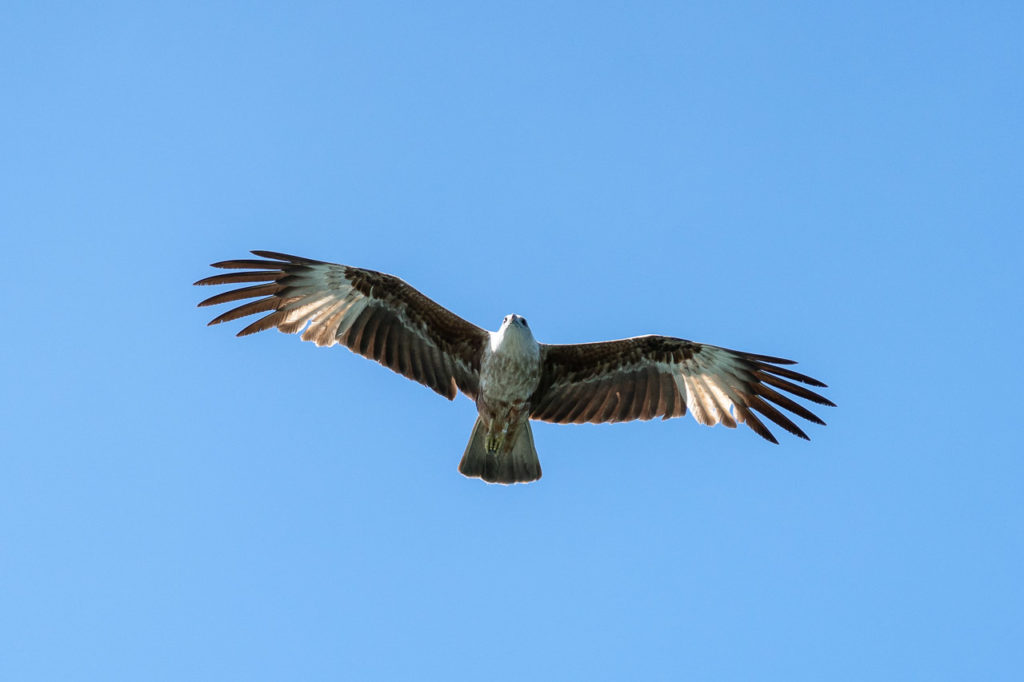 Just to be clear, despite our frustration towards Langkawi tourism model which for sure doesn't look like a sustainable one, we did have a great weekend there and quality time.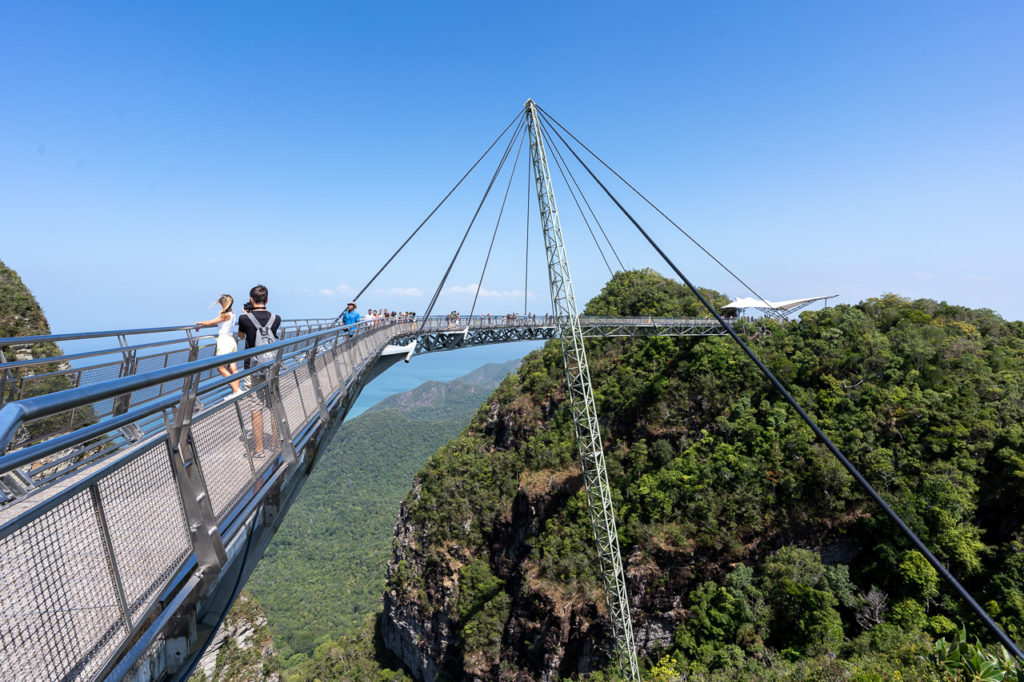 On Monday morning, we say goodbye to Malaysia and take a speedboat to the island of Koh Lipe in Thailand. We are transferred to a typical Thai long-tail boat with our bikes for the final leg of the trip to the island (only a few hundred meters). The immigration office in Koh Lipe is literally on the beach which is rather atypical. After getting our passports stamped, we head to the hotel which is a kilometre away. The beaches in Koh Lipe are postcard-like with turquoise water and coconut trees. The island is also overcrowded with resorts but in a much prettier way than Langkawi. We spend the afternoon exploring the island and snorkelling over the coral reef nearby the resort.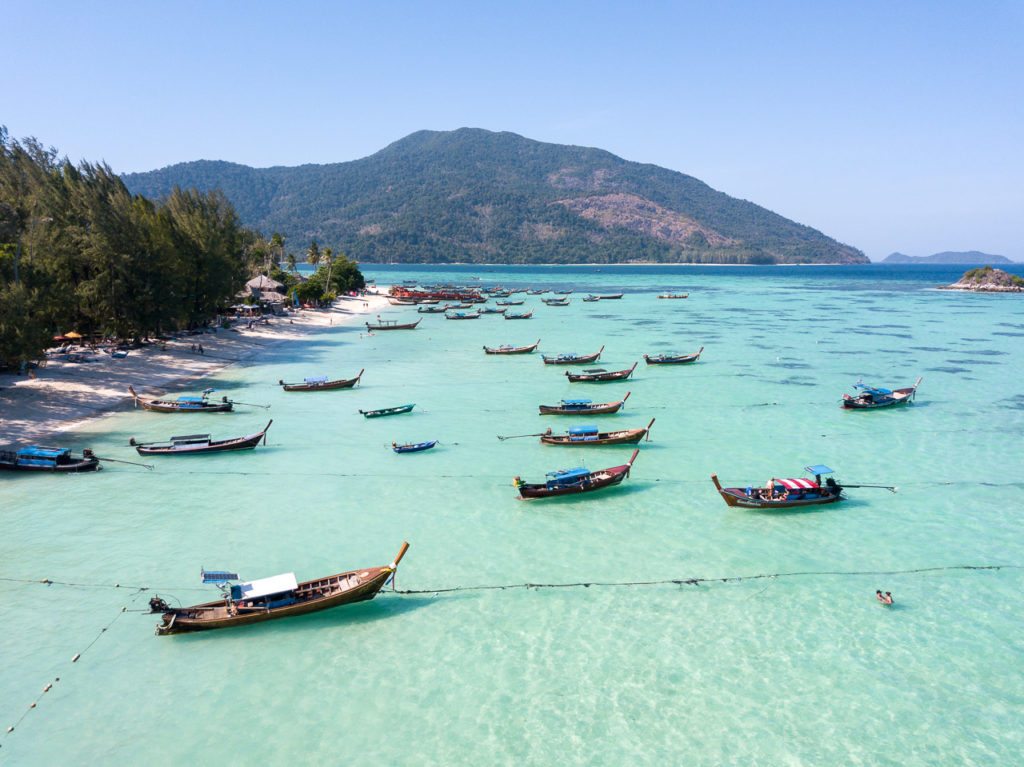 On Tuesday morning, we board a long-tail boat for two dives. We go to Ko Yang which is roughly 45' away from Koh Lipe nearby the bigger Koh Adang island. Underwater, though the visibility is only 5-8 metres (quite bad for tropical waters), we are lucky to spot a lot of soft coral, schools of fusiliers, dancing shrimps, nudibranchs, a scorpionfish, a lionfish, two hawksbill turtles and even the highly venomous (but not aggressive) banded sea krait. Back on Koh Lipe, we enjoy a beer on a quiet beach during the sunset.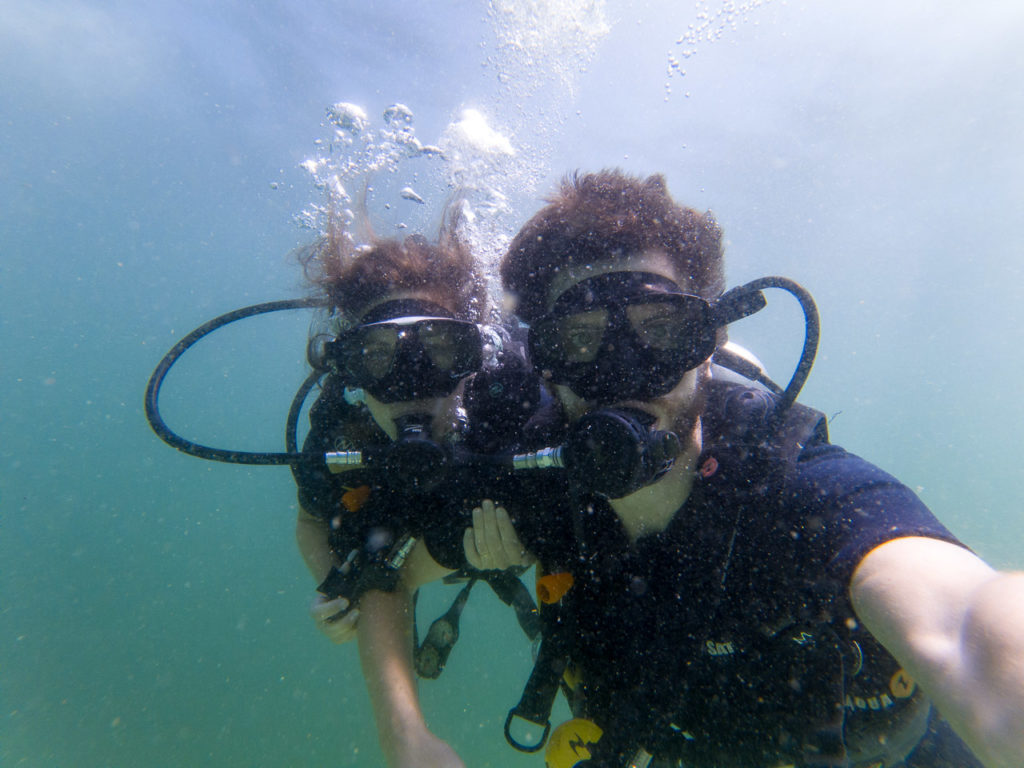 On Wednesday, after about 5 days of busy island activities but not much progress on the World map, we board a speedboat back to the continent to start our cycling adventures in Thailand from Pak Bara. Overall, cheating by taking boats saved our legs a bit less than 100 kilometres as we would have had to ride the land border between Kangar and Kamphaeng at Wang Prachan.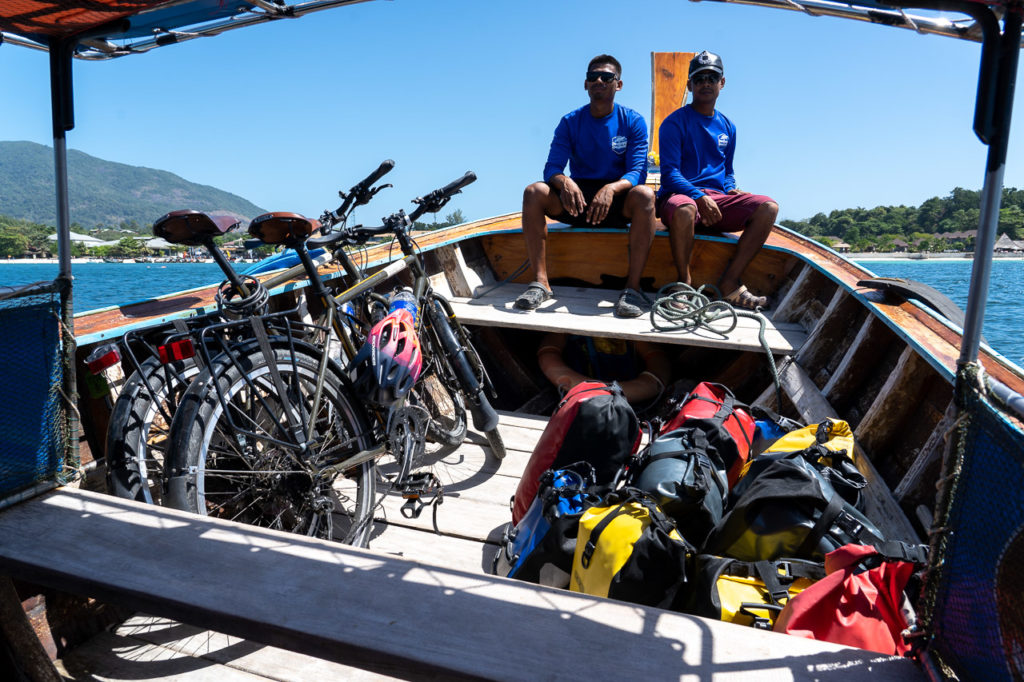 And this is where we realize the articles where we don't cycle are much longer… Hence, here are a few statistics about Malaysia:
23 days in Malaysia
16 days of cycling
7 days of rest/visits
Puncture: 1 (Armand)
1171.6 kilometres cycled
17 nights in hotels (mainly cheap OYO)
3 nights at friends' place
2 nights in warmshowers
1 night in cycling club
0 night in a tent
We start our typical day around 7:30am (at sunrise) and stop around 2-3pm (when it gets really hot) to keep an average of 75km per day of cycling.
Please also find the itinerary of our trip in Singapore and Malaysia below:
See more photos in the Malaysia and Thailand galleries.
Finally, thank you all for your nice comments. Although we don't reply to every single one of them, we do read them all and they give us a lot of motivation.