After a restful break in the jungle, we're back on our saddles with the long stretch towards Bangkok in mind. We start early in the morning with a modest pass at 250m then ride another 90 kilometres before reaching Khura Buri where we spend the night in a cute cabin in the woods next to the river.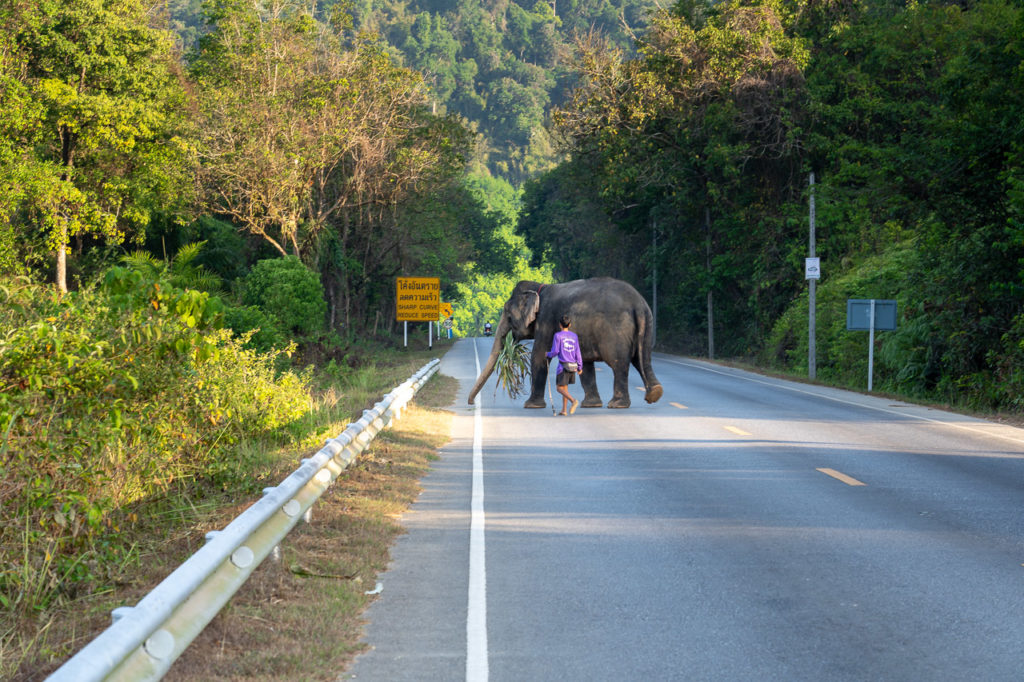 On the next day, we target to reach Ranong which at 116 kilometres is our longest daily distance so far. On the way, we meet Carole, a French girl with whom we ride for a while. Though she originally planned a shorter step, she eventually decides to keep cycling with us until Ranong. After lunch, Armand gets his third puncture, and at that point, we still don't know it's the start of a long series. By the time we fix it, ride the remaining distance to Ranong, do some grocery shopping at Tesco Lotus and find a cheap place to stay, it's already 6:40pm and we're exhausted.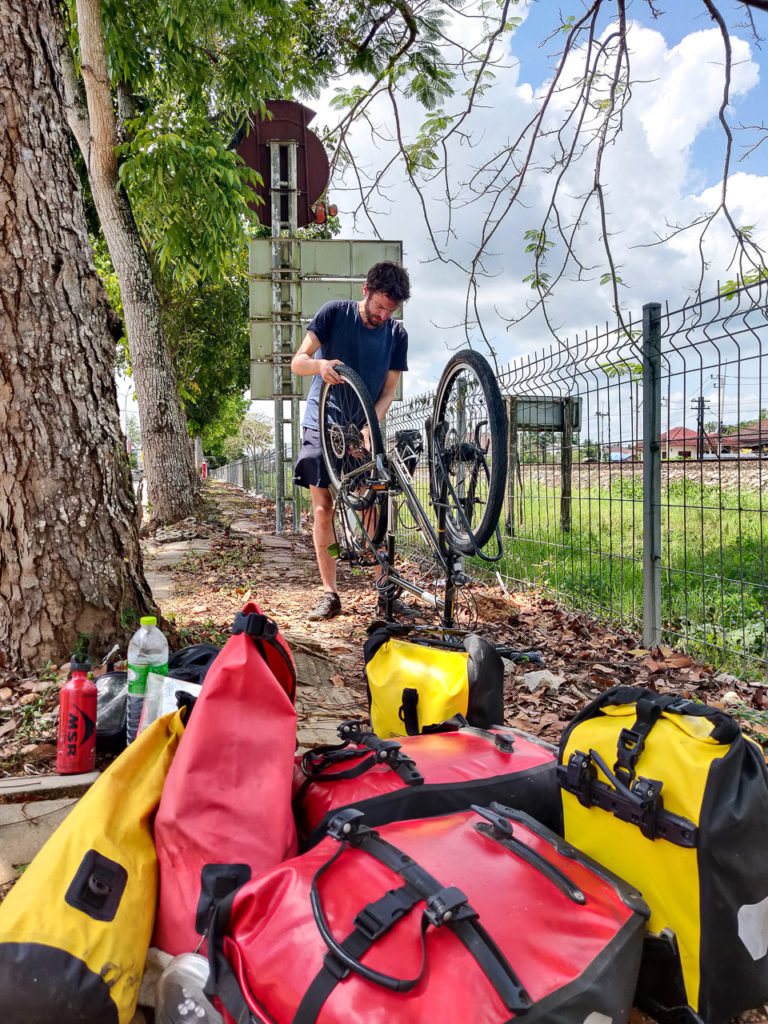 We say bye to Carole and start riding towards Kra Buri. At this point, we leave the Andaman Sea and start going up the Kraburi River. We can see the hills of Myanmar on the opposite side of the river. Right after lunch, Armand gets another puncture and after fixing it and putting all the bags on the bike, we realize the patch is already leaking. We lose quite some time fixing it again. Fortunately, the village of Kra Buri isn't far and we still manage to reach the hotel of Pannika Resort in the early afternoon. We spend the evening fixing punctured tubes that we hadn't patched yet (being lazy) with more or less success. For example, we were curious to try "glueless" patches for the first time but quickly realize it's not strong enough and just doesn't work with our types of bikes. Quite a frustrating evening.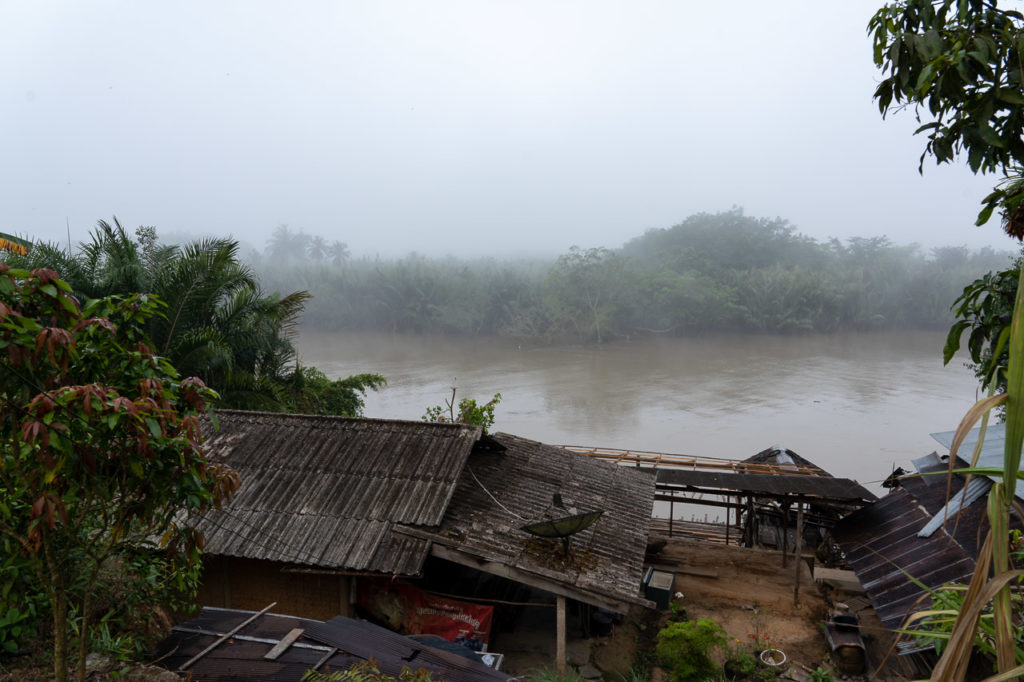 On Saturday, we leave the Kraburi River and ride East towards Chumphon and the Gulf of Thailand for a 77 kilometres' step. We reach Chumphon before noon but get another puncture close to the city centre. We still manage to get to the closest beach at Thung Wua Laen where we spend the night in a guesthouse. We hadn't seen a proper beach since Koh Lipe and this one is also postcard-like.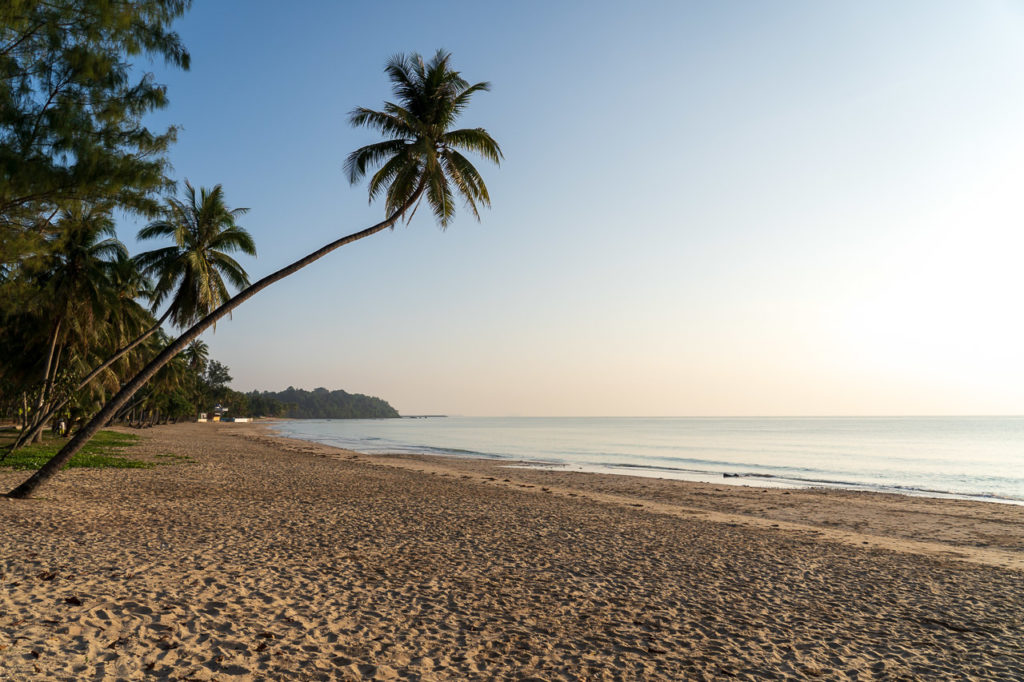 We quickly realize that the Gulf of Thailand has much more quiet coastline roads and beaches to offer than the west coast, but this comes along with more resorts and tourists. Coconut tree plantations have replaced palm oil and rubber trees. We start riding next to Thung Wua Laen beach but unfortunately get a puncture after only 3 kilometres. We don't know what's wrong with Armand's back wheel but notice the punctures often happen at the same place facing down on the spokes, and also notice the rim tape is slightly damaged, so we attempt to fix with electrical tape before finding a more permanent solution when we reach Bangkok. We manage to reach our 2000 kilometres milestone and to make it to Bang Saphan Yai before 5pm after meeting a few cyclists on the road riding in the opposite direction, including a kiwi (@visbp) and a French guy.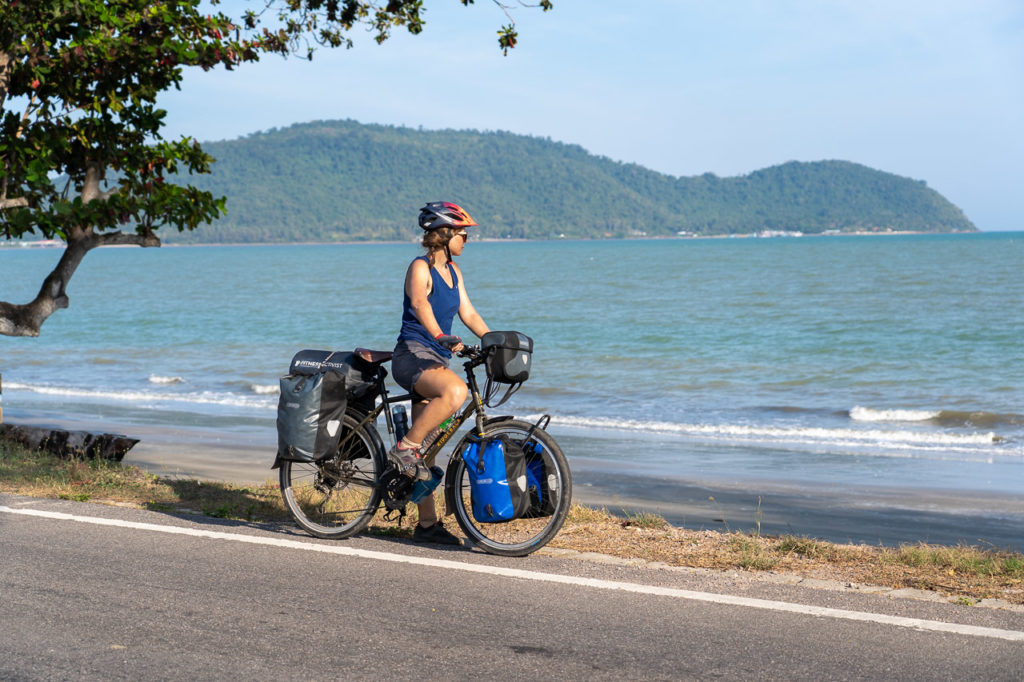 We keep riding next to beautiful beaches such as Ban Krut, meet a Canadian couple (@quesnelbikers), climb a hill to the shiny temple of Wat Tang Sai, have a nice lunch on the beach, but also get a puncture before entering Hat Wanakon National Park. It was almost 150 kilometres since the last one. We manage to make it to a great Warmshower nearby Khlong Wan where we pitch our tent.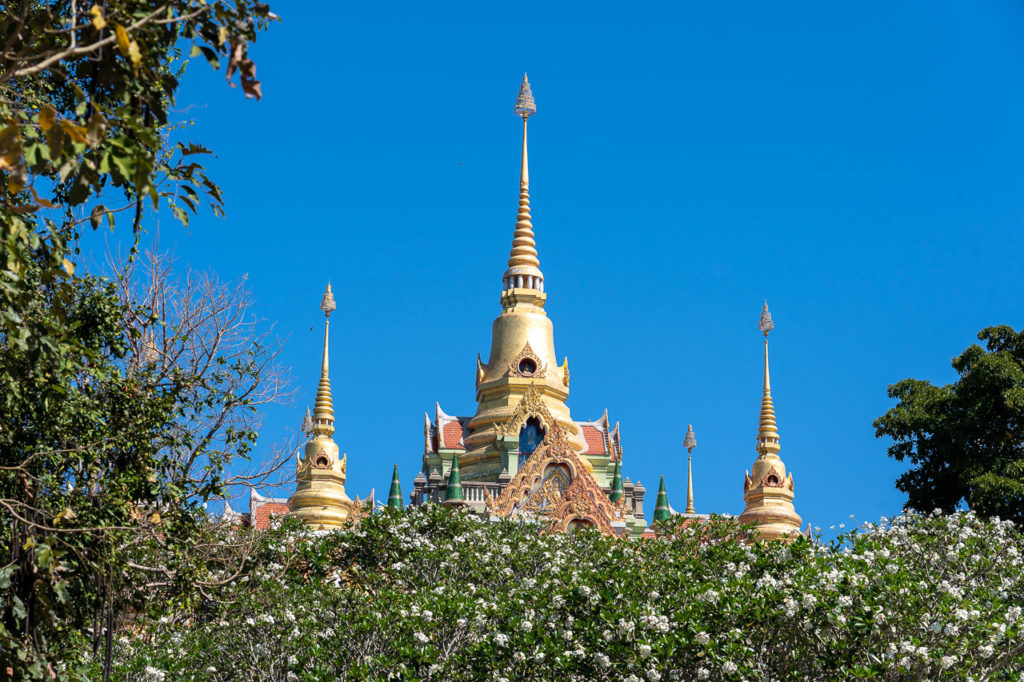 We keep cycling North and notice the landscape has already drastically changed from luxuriant vegetation to dry savannah in the past few hundred kilometres. We pass by Prachuap Khiri Khan then meet another group of cyclists (@421adventure) for a long lunch. Marco, Aurélie and Florence are also coming from the opposite direction. We discuss our experiences on the road and they show us the location of a great beach for wild camping tonight. We pass through Khao Sam Roi Yot National Park, have a pad thai for early dinner, then make it to that "Secret Beach" in time for a quick sunset swim. No puncture today!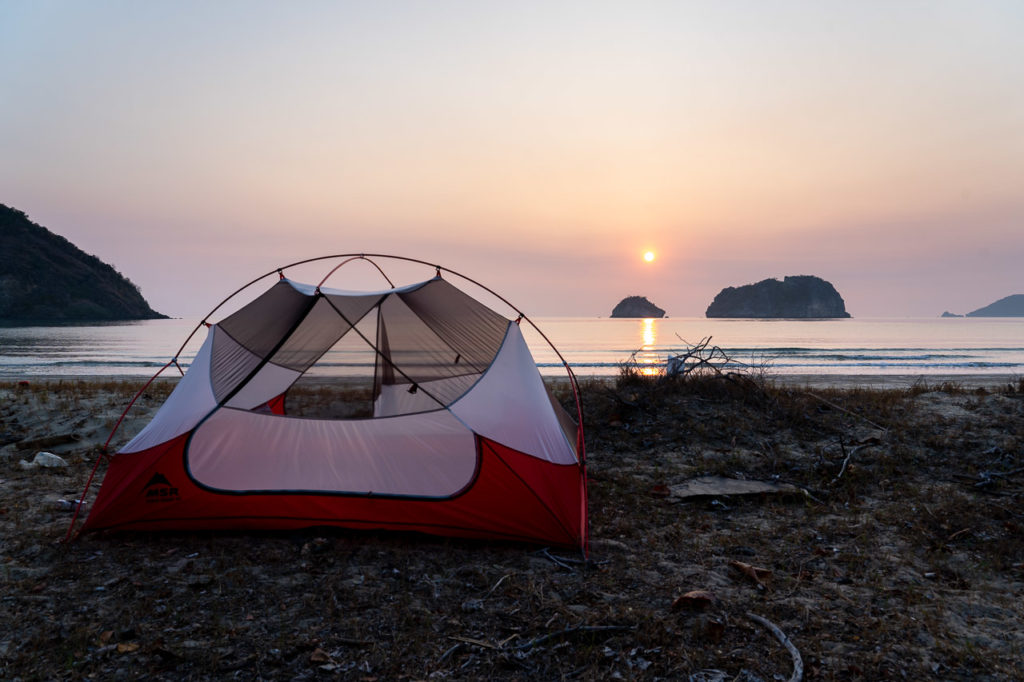 We enjoy a great sunrise on the same beach then start our journey again towards Cha-am via Hua Hin. On the social networks, we start reading more and more countries are closing their borders due to the coronavirus pandemic, including India but unclear about Myanmar which is our next destination. That's the bad news of the day, but we still decide to keep going according to the original itinerary at least for now, and the good news is: no punctures for the second day in a row.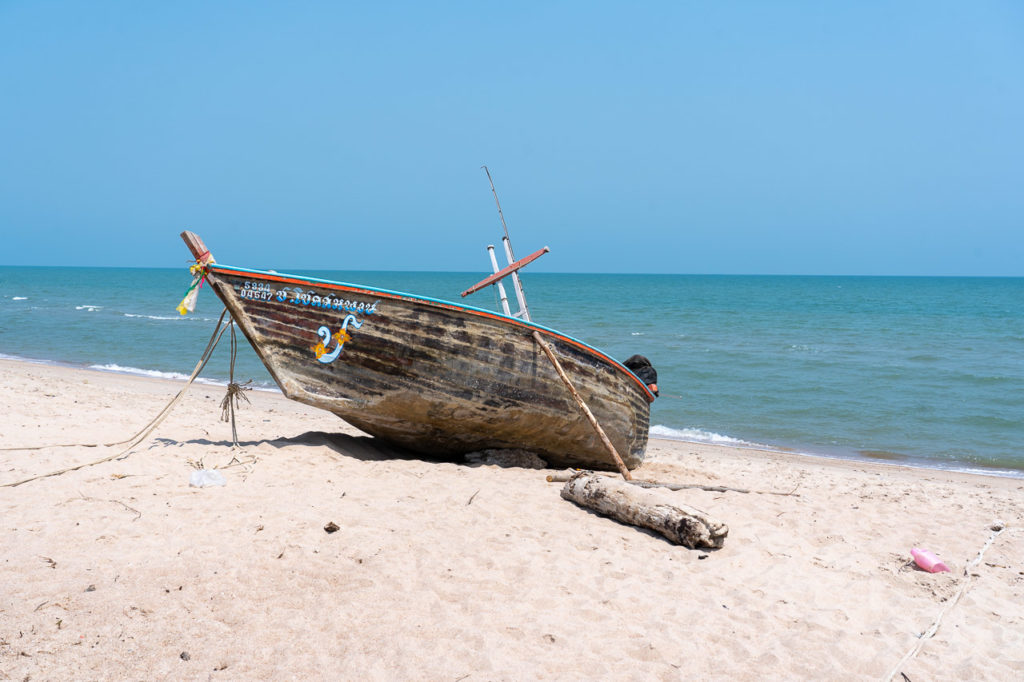 After leaving Cha-am, though there are some amazing dedicated bike tracks and a strong tail wind, we quickly get a new puncture. After fixing it, the landscape changes drastically again as we now ride surrounded by salt evaporation ponds in Laem Phak Bia. We get a second puncture on the way (or more a faulty patch) but still make it to Samut Songkhram for the night.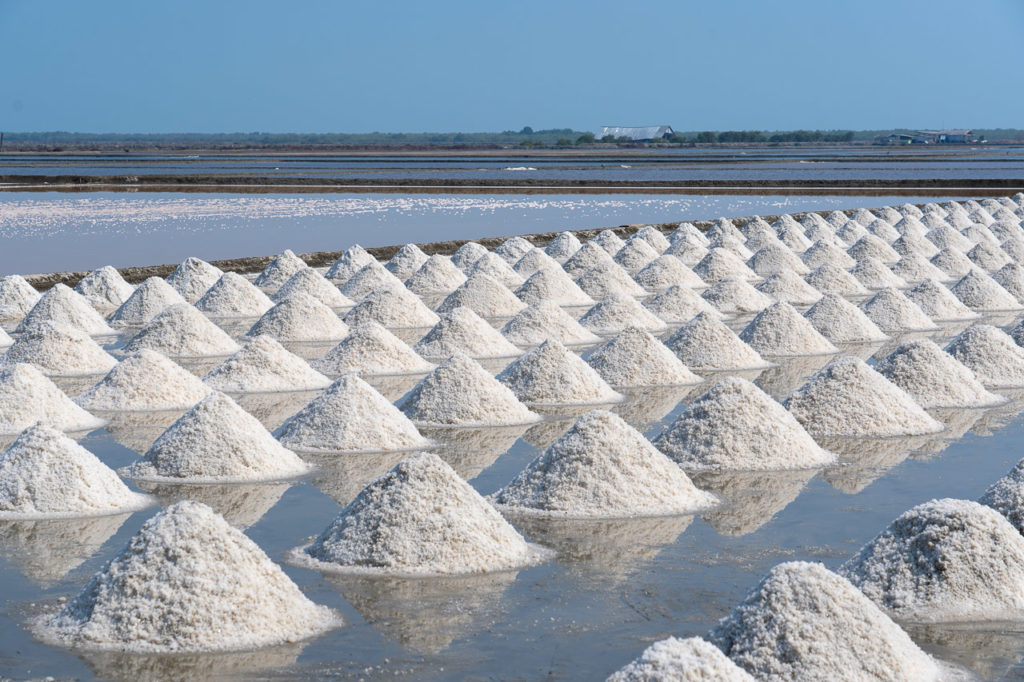 We leave Samut Songkhram for the final 80km leg towards Bangkok, but this time on a long highway which is slightly depressing after hundreds of kilometres on nicer and quieter secondary roads, but we have a strong tail wind with us. Fortunately, no punctures on this one and we arrive in Bangkok around 11am. However, the bike shop only opens at 2pm. In the meantime, we get a coke a few hundred meters away, and by the time we finish it, the tyre is flat. What an irony! At Bok Bok Bike, we get the confirmation that the bad rim tape is likely the cause of all our trouble. Therefore, we get a new one and cross our fingers that it's going to make a difference. But before we test it, we'll stay in Bangkok to rest for a few days.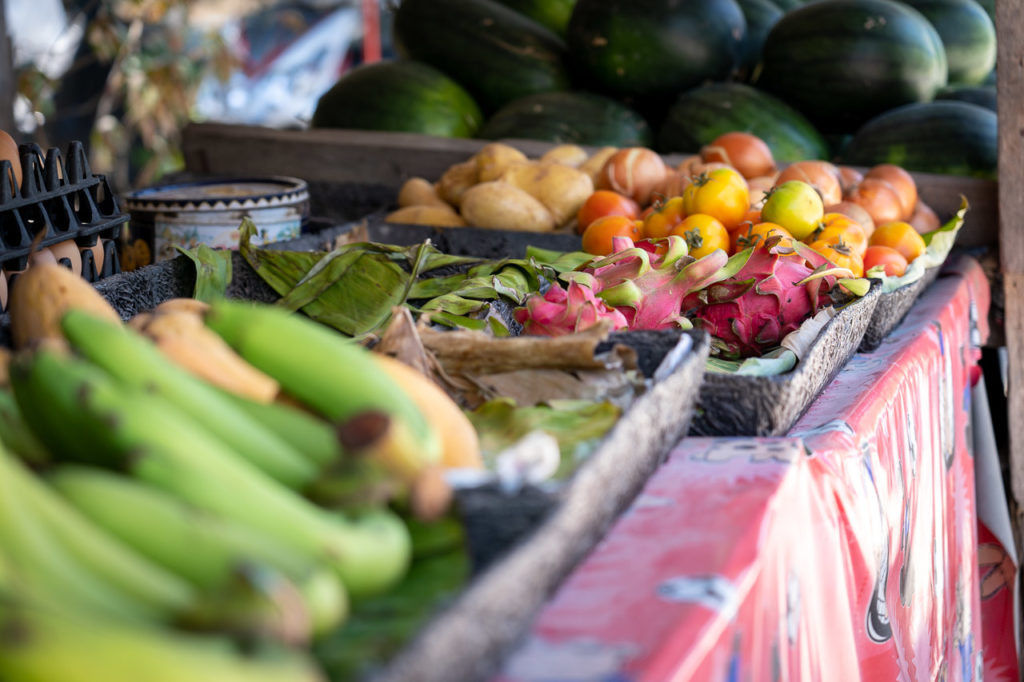 See more photos in the gallery.